What James Bond's New Car Will Look Like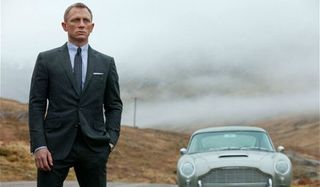 Photo Courtesy Of Aston Martin
Aston Martin is James Bond's car. There's no doubt about it. They've seen the most screen time, and the name gained prestige and popularity because of the Bond movies. So it's no surprise that Aston Martin specifically developed a new model for the upcoming Bond film, Spectre. Presenting the Aston Martin DB10.
The luxury sports car was created by the combined efforts of Aston Martin and EON Productions. Designed specifically for the film, the model combines some of the classic virtues of the brand while giving a "glimpse to the future design direction for the next generation of Aston Martins," according to Aston Martin. There will be strict limit of 10 of the models produced.
This year marks a special year for the Aston Martin and James Bond relationship. The British brand celebrates their 50 year anniversary with 007. And that relationship, between Bond and his wheels, is an important one at that. His cars are an extension of himself. They represent all aspects of the 007 character -- including power, intelligence, and most importantly, style. Bond films always introduce three new things, a new Bond girl, a new villain and obviously, a new car. So to mark the half century relationship between Aston Martin and Bond, Aston Martin decided to create a newer model of the classic throwback.
This relationship began with the most famous Bond car of them all, the Aston Martin DB5.
The DB5 was the first Aston Martin Bond car and was featured in the 1964 movie, Goldfinger. It is featured in many movies after that, including a couple newer Bond movies, Casino Royale and Skyfall. The DB5 was packed with cool gadgets, and was much more than just a way to get from point A to point B for Bond. It was the first Bond car to introduce built-in gadgets and is first shown in Q's lab showing off some of those gadgets. The car came complete with revolving number plates, a GPS dashboard, tire slashers, smoke screen, armrest controls, oil slick, a bullet proof screen, front wing machine guns, and an ejector seat.
The DB5 was the first car that was a part of the fight, and started an entirely new genre of Bond vehicles and the DB10 looks to be a modern take on that classic model. Director Sam Mendes did not share any technical or gadget details on the new model, surely to save its introduction for the film. But if this is a modern version of the DB5, we can hope to see some equally cool gadgets, with a 21st century twist. Look out for the stunning new sports car in Spectre hitting theaters on November 6, 2015.
Your Daily Blend of Entertainment News
Thank you for signing up to CinemaBlend. You will receive a verification email shortly.
There was a problem. Please refresh the page and try again.