Why Ryan Gosling Regrets His Face Tattoo In The Place Beyond The Pines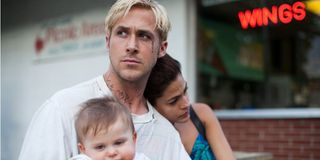 After years as a documentarian, daring writer-director Derek Cianfrance broke through in narrative cinema with his compelling and controversial divorce drama Blue Valentine. The film riled the MPAA, won critical praise and earned its female star Michelle Williams her first Oscar nomination for a lead role. It also proved the start to Cianfrance's ongoing collaboration with thinking woman's heartthrob and celebrated leading man Ryan Gosling.
The pair recently reteamed fo The Place Beyond the Pines, a crime drama that stars Gosling as a motorcycle stunt rider who turns to robbing banks to support his girlfriend (Eva Mendes) and newborn son. But this dangerous brand of moonlighting urns him an enemy in a rookie cop with big ambitions (Bradley Cooper). The film's latest poster gave us a glimpse at its leads, but now we've seen plenty more. There's a shot of Romina and Gosling as Luke, cradling his little boy Jason, played by Anthony 'Tony' Pizza Jr. No, that last name is not a typo.
At the top of the article is a photo that reveals some of the fake tattoos Gosling donned for the production. Cianfrance told EW that the actor was eager to cover himself in tats, something he wouldn't do in real life as it might negatively impact his career. Cianfrance details,
Eva Mendes actually pulled double duty as an actress and actual waitress. Cianfrance claims she worked eight-hour shifts at the diner, adding, "I can cast the rest of the diner with real patrons, and suddenly everything is real." Now that's method.
Cianfrance also cast a lot of real-life cops from Schenectady, NY, to fill in the movie's fictional police force that not only included Cooper, but also Ray Liotta. Liotta is an actor Cianfrance says he wanted for the film before the script was even drafted.
The Place Beyond The Pines Opens March 29th.
Staff writer at CinemaBlend.
Your Daily Blend of Entertainment News
Thank you for signing up to CinemaBlend. You will receive a verification email shortly.
There was a problem. Please refresh the page and try again.