Why Is Skyfall Such A Huge Hit?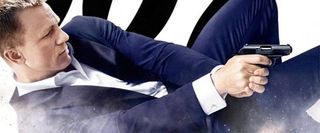 Going into this weekend it seemed obvious that Skyfall would be a huge hit in the United States in Canada. It was already an enormous blockbuster overseas, and four years after the release of the last Bond film anticipation over here seemed to have reached an all-time high-- if you hadn't heard the Adele song or seen the TV ads or subway posters or Daniel Craig on SNL, you at least were probably getting a subliminal hankering for a martini.
But then Skyfall opened this weekend and it was even bigger than huge; it's enormous, making $88 million in the United States this past weekend, easily becoming the biggest opening ever for a Bond film-- and that's even if you adjust for inflation. The movies that were once reliable but not blockbuster events have suddenly become the biggest thing in the business, and after three weekends open overseas and one huge one in the United States, Skyfall is nearly as big as its gets-- it's made $518 million worldwide already, and is sure to make much, much more.
I don't always get excited when big movies make big money, but I'm thrilled about Skyfall because I think it's so good, a Bond movie that's good no matter how you feel about the character. But all my love for Skyfall is already online. As we settle in for what looks like a solid few weeks of James Bond mania, I want to know what it is that's made this movie so huge, and has audiences in seemingly every country agreeing that it's worth their time. We don't all have all the answers, of course, but this is the best kind of Hollywood guessing game-- looking at something that's successful and figuring out what made it so beloved.
Pick one of the answers in the poll below to tell us why you think Skyfall is such a huge hit, or jump into the comments and explain in more detail there. And if you haven't seen the movie yet, what are you waiting for? It's clearly all anyone will be talking about for a long while.
This poll is no longer available.
Staff Writer at CinemaBlend
Your Daily Blend of Entertainment News
Thank you for signing up to CinemaBlend. You will receive a verification email shortly.
There was a problem. Please refresh the page and try again.