Watch Rachel McAdams Break Bradley Cooper's Heart In First Aloha Clip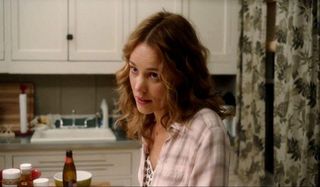 Heartbreak has never looked so good! In the new clip from Cameron Crowe's Aloha, actors Rachel McAdams and Bradley Cooper hash out the details of their breakup, and it's rather emotional. Take a look below:
In this short scene from Aloha - which comes to us from E! - Brian and Tracy, played by Cooper and McAdams, finally discuss why their relationship ended, to Brian's dismay. It's apparent in the clip that Brian was not prepared to discuss the topic at that particular moment in time. Tracy, on the other hand, is clearly ready to discuss their breakup and even hopes for an opportunity for catharsis. It seems she has been patiently waiting for the chance to get her ex to acknowledge his absenteeism during their relationship, ultimately causing its demise in her opinion.
While there are some points in this scene that do hit a certain comedic pitch, it doesn't take long for it to actually become emotional, with the two characters debating about the merits of an "ultimatum vacation," making accusations of workaholism and simply craving some kind of gesture or sign of caring. No doubt fans of the two A-listers at the center of the drama will see a heartbreaking familiarity between this scene as it plays out and other moments in some of the actors' other previous films, such as The Notebook and The Words. And that's not a bad thing at all.
Aloha is a romantic comedy written and directed by Cameron Crowe, the genius screenwriter behind Fast Times at Ridgemont High, and Say Anything, and director of Almost Famous, Jerry McGuire and Vanilla Sky - just to name a few. The plot of the movie revolves around Bradley Cooper's character, Brian Gilcrest, who is a defense contractor that falls for Emma Stone's character - an Air Force pilot named Alison Ng - after he is assigned to oversee the launch of a weapons satellite from Hawaii. As with pretty much all Crowe films, we can likely expect some laughs, some tears, and a killer soundtrack.
As seen in the clip of Aloha, Crowe—who is known for his ability to write character-driven, personal films—has indeed put his stamp on this movie, as evidenced in the lines being delivered by Rachel McAdams and Bradley Cooper. And if this clip is any indication of what the rest of the film is like, then moviegoers may just get the opportunity to witness another award winning film by the writer/director.
Aloha also features the acting talents of John Krasinski, Danny McBride, Bill Murray, Jay Baruchel and Alec Baldwin, and is due in theaters on May 29th.
Your Daily Blend of Entertainment News
Your Daily Blend of Entertainment News
Thank you for signing up to CinemaBlend. You will receive a verification email shortly.
There was a problem. Please refresh the page and try again.