Why The Transformers Movies Will Always Have Human Characters In Them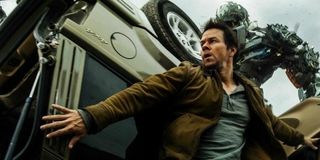 While Paramount Pictures have made sure not to get rid of the money-spinning directorial "talents" of Michael Bay during their massive Transformers reshuffle, they know exactly where their bread is buttered. Akiva Goldsman, the head of the franchise's new writer's room, confirmed this with the announcement that they will definitely keep the human characters in the series.
The Oscar winning screenwriter, who picked up the trophy for 2001's A Beautiful Mind, admitted to IGN that this tradition is going to continue with the already confirmed Transformers 5, and the expected sequels as well. In fact, Goldsman explained that he believes the dynamic between the humans and the robots in disguise is what makes the Transformers franchise so exhilarating, as he remarked:
Since Michael Bay kick started the Transformers franchise in 2007, Shia LaBeouf and Mark Wahlberg have led the four installments between them, and they've been joined by a pretty stellar line-up of actors along the way too. We're still not 100% confirmed who will be joining Michael Bay, Akiva Goldsman and the Transformers team for the fifth instalment to the franchise, which is due out in 2017. Still, there are some promising leads that range from dead giveaways to pleasant surprises.
It's obvious that Mark Wahlberg has made it know that he would be interested in reprising his role as Cade Yeager, which he performed dutifully in 2014's Transformers: Age Of Extinction. Wahlberg took over the leading role from Shia LaBeouf, who had appeared as Sam Witwicky in 2007's Transformers, 2009's Transformers: Revenge Of The Fallen, and 2011's Transformers: Dark Of The Moon. The actor had previously starred in Michael Bay's bombastic and entertaining, if not slightly too long, Pain & Gain in 2013, was deemed as the perfect replacement for LaBeouf, whose off-set antics were beginning to overshadow what he did on-screen.
There is certainly precedent for Michael Bay to hire an actor from one of his passion projects for the multi-billion dollar franchise, as Bay was so enamored with Wahlberg after Pain & Gain, that he asked him on the set if he'd like to star in Age Of Extinction. With Michael Bay currently working hard to put the finishing touches on 13 Hours: The Secret Soldiers Of Benghazi before it hits cinemas in the middle of January, we could totally see either John Krasinski or James Badge Dale taking the lead instead.
Both of the lead actors from 13 Hours and are extremely charismatic as well as great every-men who could easily be seen interacting with Optimus Prime and his cohorts. Though, admittedly, the sensible money would still be on Mark Wahlberg starring in Transformers 5. Though, to be honest, all we're hoping for is to see John Turturro re-appear in one of the impending Transformers sequels. Because, simply put, the world needs to have more movies with John Turturro playing the room for laughs.
Your Daily Blend of Entertainment News
Thank you for signing up to CinemaBlend. You will receive a verification email shortly.
There was a problem. Please refresh the page and try again.