Why Viggo Mortensen Passed On Quentin Tarantino's The Hateful Eight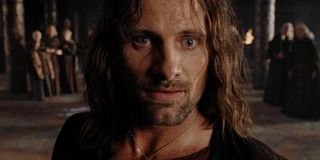 It's probably safe to say that Quentin Tarantino's upcoming return to the neo-spaghetti-western genre, The Hateful Eight has an obscenely impressive cast. Yet rumors from about six months back teased the possible addition of another key cast member with the powerfully insightful Viggo Mortensen. Unfortunately for the film, that casting never came to fruition. Now, Mortensen, himself reveals the story behind that rumor and why he wasn't able to hop on board the film.
In an interview with Grantand, Viggo Mortensen would finally address the rumor from last year that implied he was meeting with director, Quentin Tarantino about a possible role in The Hateful Eight described as "a ruthless gang leader." While confirming that said meeting did, in fact, take place, Mortensen reveals that scheduling conflicts prevented him from taking the role. As Mortensen explains,
It's kind of a shame that Mortensen wasn't able to work out the planning logistics, since a role as an apparent villain in this much-publicized Tarantino film could have been a real mainstream revival for the actor. Of course, after his iconic, regal and mega-successful performance as Aragorn in The Lord of the Rings trilogy, the movie business was looking to be Mortensen's proverbial oyster. He parlayed that into the 2004 big-budget adventure flick, Hidalgo, which, ultimately was a disaster at the box-office which even green ghosts fulfilling oaths to the King of Gondor could not save. Since then, his career has taken a remarkably un-Hollywood direction, focusing on pathos-heavy projects films like A History of Violence, Appaloosa and The Road.
While Tarantino's The Hateful Eight might have been a return of sorts to the world of big-budget popcorn flicks, the film also seems to be a return to a type of insular dramatic action like the director's aforementioned Reservoir Dogs that may better suit Mortensen's contemporary career. While the film also seems to carry itself as a hybrid of a western and a heist film, the description will have the bounty hunter characters, in a move not unlike Reservoir Dogs, converge and take refuge in one place in the aftermath of the action. While the bounty hunters will likely vie for a prize captive played by Jennifer Jason Leigh, the "ruthless gang leader" that Mortensen could have played may have had the potential to steal the show as what may have been the film's defined villain. It's something that Mortensen clearly laments in the interview when says that he wished the film "would have worked out."
With a cast consisting of Samuel L. Jackson, Kurt Russell, Jennifer Jason Leigh, Channing Tatum, Tim Roth, Bruce Dern, Zoe Bell, Walton Goggins, Demian Bichir, and Michael Madsen, just to name a few, it's clear that the addition of an intense, maniacal performance by Viggo Mortensen would have been the icing on this already delicious-sounding cake of a film. However, he's got other projects to worry about…and a Kingdom to run.
The Hateful Eight finally recovers from its early conceptual drama to win the West in cool Tarantino style later this fall on November 13.
Your Daily Blend of Entertainment News