Quentin Tarantino's Hateful Eight To Be Widest 70mm Release In 20 Years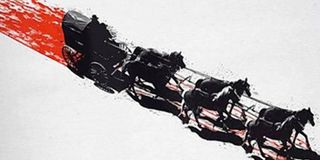 The Hateful Eight is coming. It's official as Quentin Tarantino reveals a production start date, distributor and release plans.
The Wrap reports Quentin Tarantino's sure to be bloody western The Hateful Eight will roll into production in January of 2015. The Weinstein Company has already committed to distribute the film, which will open in three forms.
As promised in its teaser, The Hateful Eight will be shot for a 70mm release, and The Weinstein Company is promising the widest release this shooting format has been offered in 20 years. TWC will also be offering releases in 35mm format as well as a digital release.
Penned by Tarantino, The Hateful Eight is set in a Wyoming following the Civil War. This common Western backdrop will be filled with a batch of bounty hunters forced to share shelter when a cruel snowstorm sweeps in. Samuel L. Jackson, Kurt Russell, Amber Tamblyn, Tim Roth, Michael Madsen, Walter Goggins, James Remar, Denis Menochet and Bruce Dern are set to star. Naturally, Quentin Tarantino will direct.
The detail that The Hateful Eight would be shot in 70mm first dropped back in January, a time when Tarantino was threatening to kill the film over a leaked copy of the script. Lawsuit threats followed, as did a stage reading of the script. And finally, this deeply passionate filmmaker recommitted to making his Western, despite the trespasses of overeager fans.
The promise of 70mm had cinephiles singing Tarantino's praises. The film stock is essentially twice as wide as standard 35mm stock, allowing for a grander capturing of landscapes and action blocking. Some of the best-known 70mm releases are 1959's Ben Hur, 1962's Lawrence of Arabia, and 1968's 2001: A Space Odyssey. It's far from a common stock, and one that has fallen off in popularity with the rise of digital filmmaking. When TWC declares The Hateful Eight will be granted the widest release a 70mm has seen in 20 years, we suspect they are referencing the release of 1992's Far And Away. The Ron Howard-directed period drama that starred Tom Cruise and Nicole Kidman opened in 1,885 theaters. So anticipate TWC to roll out The Hateful Eight as a commercial release and a major cinematic event.
The Weinstein Company has some recent experience in opening a 70mm movie. Memorably, TWC did so in 2012 with Paul Thomas Anderson's critically heralded drama The Master. However, this three-time Oscar-nominated drama only opened in 864 theaters. Clearly, TWC expects The Hateful Eight to have a broader commercial appeal. That's none-too-surprising considering Quentin Tarantino's last effort, Django Unchained, not only won two Oscars (Best Original Screenplay for Tarantino, Best Supporting Actor for Christoph Waltz), but also brought in a whopping $425 million worldwide. For the record, it played in 3,012 theaters.
The Hateful Eight will open in December of 2015.
Your Daily Blend of Entertainment News
Staff writer at CinemaBlend.