Why Wonder Woman And Its Director May Have Parted Ways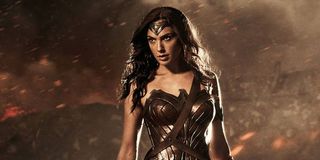 Earlier this week, when Warner Bros. and Wonder Woman director Michelle MacLaren parted ways, the studio wasted precious little time hiring a replacement. The nebulous "creative differences" was the only reason given for the split, and while we still don't know exactly what these quarrels were all about, we're getting a better idea.
There is no official word on what caused the irreparable rift between studio and filmmaker, but sources with some proximity to the project tell Variety that the two sides simply had drastically different visions for film. According to the report, the studio had something more character-centric in mind rather than a big action spectacle. MacLaren, on the other hand, is said to have been after something more along those lines. The article calls her idea an "epic origin tale in the vein of Braveheart."
This seems a little odd because you normally assume that the studio, especially in the case of a comic book adaptation, is the one pushing for a massive action film, while it's the filmmaker who wants focus on the more subtle side of things, like story and character. If these informants are to be believed, that's not the case this time around.
MacLaren's background is primarily in TV, where she is most known for her work directing character-driven shows like Breaking Bad, The Walking Dead, and even The X-Files, among many others. The idea of her helming a large-scale action film the magnitude of Wonder Woman gave the studio pause. Even if it's focuses on character, there is still going to be plenty of action involved, and the closest MacLaren has ever come to working on a project like this is HBO's Game of Thrones. While that's big and epic for TV, it's a whole other world compared to a studio blockbuster.
It is also being said that MacLaren had issues with the extended, in depth pre-production process involved in an undertaking like Wonder Woman. Again, it's a totally different thing compared to TV. Reportedly everything from the various drafts of the scripts to the studio continually tinkering with different ideas rubbed her the wrong way, and she even called the whole situation "tortuous."
Experience is likely a big reason why WB tapped Patty Jenkins to replace MacLaren. Jenkins has experience working with more character-driven pieces, like 2003's indie drama Monster, which won Charlize Theron and Oscar, but she was also originally slated to direct Thor: The Dark World for Marvel. She, too, wound up being replaced, by Alan Taylor in that situation, but she's at least had some experience with the process behind massive comic book adaptation, and perhaps the studio feels they're in better hands because of that.
Warner Bros. is still looking for the male lead to star opposite Gal Godot in Wonder Woman. Even with all of the current upheaval and uncertainty, shooting is still scheduled to begin later this year, and the release date still stands as June 23, 2017.
Your Daily Blend of Entertainment News
Thank you for signing up to CinemaBlend. You will receive a verification email shortly.
There was a problem. Please refresh the page and try again.