Wild Thing Charlie Sheen Headed Back To Major League?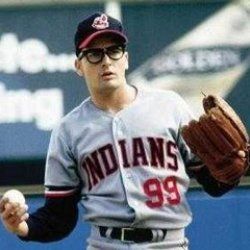 Most baseball fans probably associate the song "Wild Thing" with the bespectacled, flame-throwing, cut-off sleeve sporting, ex-con, relief pitcher Rickey "Wild Thing" Vaughn. Though Vaughn is just a movie character, an iconic role played by Charlie Sheen, he might just be the most recognizable Cleveland Indian ever. Oh those poor Indians.
Last time we saw Vaughn he was coming out of the bullpen to clinch the pennant in Major League 2 (the last movie in that franchise as I refuse to acknowledge Major League: Back to the Minors). Now, according to Moviehole, Charlie Sheen could reprise the role in an upcoming Major League movie.
Major League writer and director David S. Ward has confirmed that he's spoken with Sheen about bringing the skull glasses back out for the already-written movie. A much older Rickey Vaughn would come out of retirement to mentor a younger player just reaching the majors. No word if Willie "Mays" Hayes (Wesley Snipes), Pedro Cerrano (Dennis Haysbert), or Jake Taylor (Tom Berenger) will head out of the dugout along with Vaughn.
To date, the original Major League remains one of the best baseball movies out there, combining the absurd, comedic and redemptive in a story about a floundering franchise using a motley crew to win the pennant. Wild Thing, you make my heart sing!
Doug began writing for CinemaBlend back when Terminator: The Sarah Connor Chronicles actually existed. Since then he's been writing This Rotten Week, predicting RottenTomatoes scores for movies you don't even remember for the better part of a decade. He can be found re-watching The Office for the infinity time.
Your Daily Blend of Entertainment News
Thank you for signing up to CinemaBlend. You will receive a verification email shortly.
There was a problem. Please refresh the page and try again.