Win A Role In A Harry Potter Movie!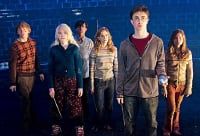 If you've ever dreamed about going to Hogwarts and, well, doing a bunch of fake magic in a movie, this could be your chance. MSN U.K. and Warner Home Video are holding a contest to help pimp the DVD release of Harry Potter and the Order of the Phoenix. The winner will appear in Harry Potter and the Half-Blood Prince as Ron Weasley! Ok, not as Ron, but you do get a walk-on role and your face might be on the screen for up to .6 seconds.
There are a few catches. The biggest is that you have to live in the United Kingdom. I guess they are too poor to fly anyone over from the US or Bulgaria or anyplace like that. You also must be at least 12. If you are over 15, you should start reading books for grown-ups. Finally, you have to answer a Harry Potter movie related question. They aren't hard at all. I answered one and I know almost nothing about the movies and less about the books. Reportedly the question changes every week.
The contest runs between today and December 20th, so if you live in Hartfordshire or West Buckingham Estates, get online and see if you can rub shoulders or other parts with Emma Watson. The rest of you will just have to be content to put on your homemade Harry costumes and ink in that lightning bolt on your forehead.
Your Daily Blend of Entertainment News
Thank you for signing up to CinemaBlend. You will receive a verification email shortly.
There was a problem. Please refresh the page and try again.