Winona Ryder's Sex And Death Nudity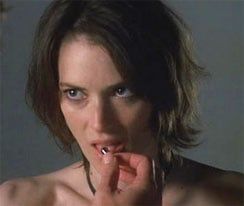 It's kind of sad to think that Winona Ryder's career has sunk to the point that the only reason anyone would be interested in her next movie is if she's naked in it. But there it is. Maybe this has something to do with the whole women in film problem Hollywood has been having in general this year. If it does, I'm probably contributing to it with this story. Sorry about that.
But, Winona Ryder does have a movie coming out called Sex and Death 101 and we're Cinema Blend so we report anything and everything, even if it's puerile, crass, and full of titties. It does make us feel a little better about it if it's full of titties though. Hey, I'm just being honest. Besides, this story will save you the trouble of seeing Sex and Death 101 because her millisecond of brief nudity from the film has popped up online.
In Sex and Death 101 Ryder is reunited with Heathers screenwriter Daniel Waters for a film in which she plays a serial killer who targets sex criminals. It sounds like it's sort of in the vein of the really awful Rosario Dawson, rape-revenge flick Descent. Actually, Ryder should probably encourage comparisons to that since her movie can't help but be better.
Anyway, I don't know how it got online *and it's so brief that you've gotta wonder why they even bothered to shoot it), but Ryder's brief nudity/sex scene from the film is online. It's so brief I really don't why she'd agree to do it when it really ads nothing to the film except to get horny Mr. Skin subscribers clicking furiously in an attempt to pause the movie on the single frame where you can see something. I just don't see the point. She should have kept her top on.
But she didn't and the celeb blog IDonLikeYouThatWay has found the clip, thrown it on YouTube, and enlarged all the pics. There you go. If that's your thing, well enjoy. Here's the clip, it's probably NSFW, but it's so brief that truthfully even if your boss was standing right behind you he might not notice the nudity.
Your Daily Blend of Entertainment News
Thank you for signing up to CinemaBlend. You will receive a verification email shortly.
There was a problem. Please refresh the page and try again.