Women Film Critics Circle Honors Changeling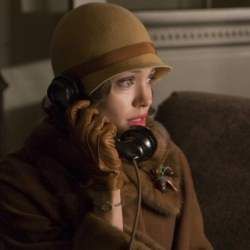 I actually voted as part of two critics groups today, though only one of them involved sitting in a room with a bunch of people and complaining about how hungry we are. Voting for the Women Film Critics Circle is a much simpler, e-mail based thing, and results in awards that are definitely different from the usual. The top prize, Best Film About Women, went to Clint Eastwood's Changeling, while Best Movie By A Woman was Courtney Hunt's Frozen River.
The best part of these awards is always the negative part, where movies and characters are singled out for Most Offensive Male Characters and the Top Ten Hall of Shame. Zack and Miri Make a Porno shows up in the hall of shame and Jason Mewes also gets a special mention, while Paul Rudd and Seann William Scott of Role Models are also (un)distinguished guests. Check out the entire list below and see the year in film through a pair of feminist eyes.
The Women Film Critics Circle Awards 2008
BEST MOVIE ABOUT WOMEN
Changeling
BEST MOVIE BY A WOMAN
Frozen River
BEST STORYTELLER [Screenwriting Award]
Jennifer Lumet: Rachel Getting Married
BEST ACTRESS:
Melissa Leo: Frozen River
BEST ACTOR
Mickey Rourke: The Wrestler
BEST YOUNG ACTRESS:
Abigail Breslin: Kit Kittredge and Definitely Maybe
BEST COMEDIC ACTRESS: *TIE*
Sally Hawkins: Happy-Go-Lucky
Meryl Streep: Mamma Mia!
BEST FOREIGN FILM
I've Loved You So Long
BEST FEMALE IMAGES IN A MOVIE:
The Secret Life Of Bees
BEST UNRELEASED MOVIE:
How The Garcia Girls Spent Their Summer
BEST EQUALITY OF THE SEXES:
Nothing But The Truth
BEST MUSIC:
Cadillac Records
BEST ANIMATED FEMALE :
Eve: WALL-E
BEST FAMILY FILM
WALL-E
LIFETIME ACHIEVEMENT AWARD:
Meryl Streep
ACTING AND ACTIVISM: Natalie Portman
**ADRIENNE SHELLY AWARD: For a film that most passionately opposes violence against women:
Changeling
**JOSEPHINE BAKER AWARD: For best expressing the woman of color experience in America:
Ballast
**KAREN MORLEY AWARD: For best exemplifying a woman's place in history or society, and a courageous search for identity:
Battle In Seattle
COURAGE IN ACTING:
Deidra Edwards in DisFigured: For redefining conventional standards of female physical beauty and pride on screen, and promoting positive images of big bodied women.
BEST DOCUMENTARIES:
GROUNDBREAKER:
A Walk To Beautiful: Mary Olive Smith
ABOVE AND BEYOND:
Wings Of Defeat: Risa Morimoto
COURAGE IN FILMMAKING:
Traces Of The Trade: Katrina Browne
MOST OFFENSIVE MALE CHARACTERS
Aaron Eckhart: Towelhead
Sam Rockwell: Choke,
Larry Bishop: Hell Ride
Paul Rudd, Sean William Scott: Role Models
Jason Mewes: Zack And Miri Make a Porno
TOP TEN HALL OF SHAME
Roman Polanski: Wanted And Desired
House Of The Sleeping Beauties
The Women
The Life Before Her Eyes
The Hottie and the Nottie
Savage Grace
Made Of Honor
The Family That Preys
Hounddog
Zack And Miri Make A Porno
**ADRIENNE SHELLY AWARD: Adrienne Shelly was a promising actress and filmmaker who was brutally strangled in her apartment in 2006 at the age of forty by a construction worker in the building, after she complained about noise. Her killer tried to cover up his crime by hanging her from a shower20rack in her bathroom, to make it look like a suicide. He later confessed that he was having a "bad day." Shelly, who left behind a baby daughter, had just completed her film Waitress, which she also starred in, and which was honored at Sundance after her death.
**JOSEPHINE BAKER AWARD; The daughter of a laundress and a musician, Baker overcame being born black, female and poor, and marriage at age fifteen, to become an internationally acclaimed legendary performer, starring in the films Princess Tam Tam, Moulin Rouge and Zou Zou. She also survived the race riots in East St. Louis, Illinois as a child, and later expatriated to France to escape US racism. After participating heroically in the underground French Resistance during WWII, Baker returned to the US where she was a crusader for racial equality. Her activism led to attacks against her by reporter Walter Winchell who denounced her as a communist, leading her to wage a battle against him. Baker was instrumental in ending segregation in many theaters and clubs, where she refused to perform unless integration was implemented.
**KAREN MORLEY AWARD: Karen Morley was a promising Hollywood star in the 1930s, in such films as Mata Hari and Our Daily Bread. She was driven out of Hollywood for her leftist political convictions by the Blacklist and for refusing to testify against other actors, while Robert Taylor and Sterling Hayden were informants against her. And also for daring to have a child and become a mother, unacceptable for f emale stars in those days. Morley maintained her militant political activism for the rest of her life, running for Lieutenant Governor on the American Labor Party ticket in 1954. She passed away in 2003, unrepentant to the end, at the age of 93.
Staff Writer at CinemaBlend
Your Daily Blend of Entertainment News
Thank you for signing up to CinemaBlend. You will receive a verification email shortly.
There was a problem. Please refresh the page and try again.