Wonder Woman May Shoot In This Exotic Location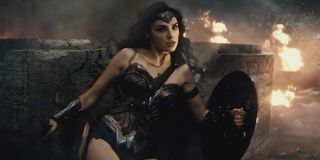 Wonder Woman is just about all set to go in front of cameras. It has a star (Gal Gadot), a director (Patty Jenkins), a screenplay (by Jason Fuchs), and now it looks like it has an exotic location. A new report has hit the web suggesting the highly anticipated DC superhero film will be shot in Italy's Basilicata.
The report comes from Yahoo Italy, which states that Wonder Woman will be setting up shop in this region, aka Lucania, of Southern Italy. Basilicata encompasses a slew of territories, including the ancient city of Mattera, where films like the Biblical epics Ben Hur and Pasolini were filmed. While plot details on the film are unknown at this time, the exotic locale, which also includes lush seaside locations, are perfect for Themyscira, the home island of Wonder Woman.
Again, it's unknown if audiences will see this island in the film, but take a look at this video tour of Basilicata, including Potenza.
As you can see, many ancient landmarks and structures have been preserved, including the Roman columns, which would be perfect for flashback scenes or present-day scenes on Themyscira.
Based on info from the comics, this mystical island was established by the Olympian goddesses Athena, Aphrodite, Artemis, Demeter, and Hestia. The Amazonian warrior women who inhabit Themyscira are the reincarnated souls of women who were killed my men, and the goddesses bestowed them with traits associated with their image (i.e. strength, beauty, wisdom, and love). No men are allowed to step foot on this island, but when an army pilot named Steve Trevor crash lands on the island, Princess Diana/Wonder Woman wins the right to escort him back home and to make these women known to the world.
Here's one version of the island from the comics.
However, this origin may or may not play in the film version. By the time Jenkins' Wonder Woman hits theaters on June 23, 2017, Gadot will have already made her debut as the lasso-swinging, sword-wielding warrior in Batman v Superman: Dawn of Justice. In the trailers and preview images, we see her canoodling with Ben Affleck's Bruce Wayne and, later on, battling some unseen enemy.
What is known about the movie is that Chris Pine, who was thought to up for a role as one of the Green Lanterns in Green Lanterns Corps., will portray Trevor. He will be the film's lead male role and appear in multiple films across the DC cinematic universe.
We'll have to hold tight for the moment as we await more details on the Wonder Woman film, though this new development with location speaks of great and Wonder-ful things to come.
Your Daily Blend of Entertainment News
Thank you for signing up to CinemaBlend. You will receive a verification email shortly.
There was a problem. Please refresh the page and try again.