Words Can't Describe How Insane Chris Pine's New Movie Looks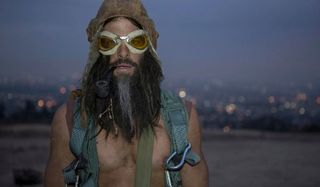 Sometimes a studio finds themselves sitting on a movie that they have no clue about selling to the public. When faced with a prospect such as this, a studio can do one of two things: they can either give it their best shot and hope for the best, or they can shelve the movie and quietly release it without much help, either on VOD or Blu-ray. We've already seen the former scenario happen with Edge Of Tomorrow, which made the most money for a Tom Cruise film in the last nine years, all with a lackluster marketing strategy. Unfortunately, it seems the latter scenario is about to run its course this October with Joe Carnahan's latest film, Stretch. Thankfully, the word is getting out somewhat through Twitter.
The film's official Twitter feed has been working overtime ever since its inception five days ago, feeding the public everything from parody posters to stills from the film, with clips being mixed in as the profile grows in scope and numbers. Among the carefully selected stills from the film's feed is the one we've embedded above, showcasing a bearded and very crazy looking Chris Pine. Those of you familiar with the actor's more recent roles in Star Trek and Jack Ryan: Shadow Recruit might be a little shocked to see Pine in such a primeval state, but anyone who's a Joe Carnahan fan knows that Pine's gone off the reservation before in the 2006 sleeper hit Smokin' Aces.
Smokin' Aces was a rough sell back in the day, and Universal admirably shepherded it to a nice $57.1 million grossing on a $17 million budget. Stretch while only being budgeted at $5 million, is apparently an even harder sell as it's about "a chauffeur [taking] a job for a billionaire who makes his life hell." Considering Smokin' Aces could be boiled down to a logline of "everyone wants to kill a mob informant, and takes each other out in the process," it's clear that this should have been an easy sell. But Universal all of a sudden backed out of the original March 21st release date this past January, and left the future of this greatness in serious question.
I'm going to re-phrase that to truly showcase how ridiculous this sounds: Universal didn't think that a film starring Patrick Wilson (who made Warner Bros some serious coin with The Conjuring last summer) and Chris Pine (Captain Freaking Kirk), directed by the guy who also scored a nice January win with The Grey couldn't make at least $7.5 million on a March weekend. Judging that weekend's competition, Chris Pine's name alone could have easily kicked Need For Speed's $10.8 million dollar ass, and made change for the next weekend. It wouldn't have beat Divergent by a long shot, but it could have made some serious counterprogramming coin as anyone who wasn't interesting in fake conflict could have experienced some real (and crazy) conflict. Like this...
So what does a film with Chris Pine and Patrick Wilson starring alongside Jessica Alba, and Brooklyn Decker do to keep the madness going? It pulls a Snowpiercer and goes direct to VOD. That's right, Stretch is finally seeing the light of day in October through Jason Blum's new BH Tilt imprint, which focuses on distribution of films as singularly obscure as this one. So if you're looking forward to Chris Pine going back to crazier and wilder shenanigans, your day has come!
Stretch doesn't have a release date just yet, so keep your eyes out for further word from the official Twitter feed. In addition, you''ll be able to catch Chris Pine join in on even more hijinks in Horrible Bosses 2, coming to theaters on November 26th.
Senior Movies Contributor
CinemaBlend's James Bond (expert). Also versed in Large Scale Aggressors, time travel, and Guillermo del Toro. He fights for The User.
Your Daily Blend of Entertainment News
Thank you for signing up to CinemaBlend. You will receive a verification email shortly.
There was a problem. Please refresh the page and try again.