Universal Unplugs Joe Carnahan's Stretch Three Months Before Release Date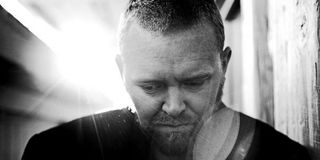 The era of the mid-budget movie truly is approaching. There are several reasons for this, and several people with limited imaginations to blame. But the truth is, these types of films -- movies that aren't micro-budgeted or mega-budgeted -- are still quite expensive to market. There are more and more movie studios out there, each trying to mimic each others' formula, each jostling for the same amount of attention. And that means more immersive ad-work: if your movie is cheap, it had better be broadly appealing, because they're going to have to wallpaper ads all over town to make it profitable.
Such is the case with Joe Carnahan's Stretch. The film comes from Jason Blum's Blumhouse Productions, the studio that has specialized in very low-budget genre offerings like Paranormal Activity and The Purge. This ran a little pricier than those, at a full $5 million. It also, admittedly, sounds unclassifiable: Patrick Wilson plays a chauffeur who picks up a colorful billionaire (Chris Pine, apparently a cameo) that leads his limo into a night of "dangerous encounters." And now Universal, originally slated to release the film on March 21st, has cancelled the theatrical release, according to THR.
Universal apparently estimated it would cost $20-$40 million to put this out in theaters and decided it was not worth the risk. Which is sadly accurate: that's the going rate for prints and advertising for a wide release studio film, and it doesn't factor into the budget at all. And yes, those grosses need to be divided between the distributor, the producers, the theater chains… you can see how Stretch, like any movie, would have been a dicey proposition. Of course, this is the studio that released the financial sinkhole that was Battleship. You'd think they'd look risk in the face and smirk, knowingly. Would you have made and released Battleship? No. You're not brave enough.
Blum has a nice first-look deal with Universal, and their first collaboration with Blumhouse ended up being The Purge. So you'd think they'd want to be in business with him on another low budget film. Truth is, no one in the industry apparently wants to release Stretch: Universal allowed Blum to shop the film around to other distributors, and none were interested. Now that Stretch is back with Universal, it seems that the studio is open to putting the film out, but they are exploring "creative" solutions, according to the article. Which likely means there's no way you're seeing this in theaters, but you might get to catch it on VOD.
Stretch also stars Jessica Alba, Brooklyn Decker, Ed Helms and Ray Liotta. Now, we don't want to blame financial failure on certain actors, but Alba, Decker and Helms were very recently in Machete Kills, Battleship and The Hangover III, three movies that almost no one liked (though The Hangover III made far more money than you'd expect). Throw Pine into the mix, coming off the flop that is Jack Ryan: Shadow Recruit, and Liotta, who is no stranger to dubious-looking direct-to-DVD releases, and suddenly this cast looks pretty weak onscreen. You wouldn't just need $20-$40 million to sell this thing. You'd also need a helluva lotta luck and creativity. But hey, maybe David Hasselhoff would have put some butts in seats.
Your Daily Blend of Entertainment News
Thank you for signing up to CinemaBlend. You will receive a verification email shortly.
There was a problem. Please refresh the page and try again.