The Words Helmers Set For YA Drama Break My Heart 1000 Times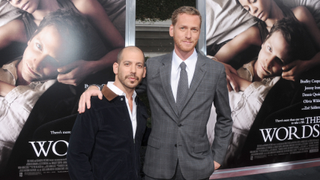 (Image credit: Gregg DeGuire / Contributor)
Grads of the Sundance Screenwriting Lab and emerging filmmakers Brian Klugman and Lee Sternthal made the leap to directing together with the dark drama The Words, which stars Bradley Cooper as a heralded writer haunted by guilt when he steals someone else's story. And with their ambitious directorial debut set to hit theaters tomorrow, the pair is already poised for their next project, a frightening adaptation of Generation Dead author Daniel Walter's new YA novel Break My Heart 1,000 Times.
The haunting in this feature will be far more literal than The Words', as Break My Heart 1,000 Times is set in a bleak future where ghosts linger on Earth following a cataclysmic occurrence known only as The Event. The heroine of this creepy tale is Veronica, a teen girl who notices the dead aren't moving on, they're powering up…but to what end?
THR reveals Gold Circle Films, which is producing and fully financing the feature, has hired Klugman and Sternthal to not only polish the adapted screenplay's latest draft - penned by Jason Fuchs (Ice Age: Continental Drift) - but also helm. With franchises like Harry Potter, Twilight, and The Hunger Games becoming box office behemoths, producers have been jockeying hard to score the next YA book property that could become a feature ripe for that rare and lucrative cross-demographic appeal.
However, the stakes seem much lower for Break My Heart 1,000 Times. For one, Gold Circle is a smaller production company that predominantly focuses on romance and horror, with titles to their credit like The Haunting in Connecticut and the upcoming a cappella rom-comPitch Perfect. But this could be a great step for Klugman and Sternthal, providing them the creative space to experiment without the incredible pressure of a gargantuan budget and demand for a massive box office. In short, they'll have an opportunity to craft something potentially unique and chilling.
The Words opens September 7th. The novel Break My Heart 1,000 Timeswill be hit bookshelves October 16th; there's no word yet on when the movie version may shoot.
Your Daily Blend of Entertainment News
Staff writer at CinemaBlend.