World War Z 2 May Go In A Completely Different Direction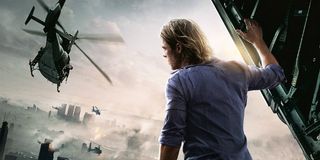 Is World War Z 2 going to hit the reset button on the franchise? We've been wondering just where we're heading when the sequel to the Brad Pitt-led zombie actioner hits theaters in 2016, and now the film's screenwriter has revealed an interesting little tidbit. Well, it's not all that "little," considering his wording implies we could be looking at an entirely different direction than originally thought.
Speaking with Thompson on Hollywood during a recent interview, Steve Knight, who's writing the treatment for World War Z 2, revealed that the production won't necessarily be picking up where Pitt's Gerry Lane left off after the first film. Said Knight, when asked about the project,
World War Z saw a zombie plague decimating the human population all over the world, as major cities fell underneath hordes of super-zombies. In an attempt to track down the source of the disease, Lane traveled all over the world but could not find a cure. SPOILER ALERT: The best he could muster was a way of masking the non-infected from the undead - though his search continued.
Pitt, who's producing the sequel through his Plan B, said a while ago that his team had to get the script right, but that he felt they had a lot of different stories to mind out of the material. Based on Knight's comments, it doesn't seem like the sequel will pick up where the action left off. That being said, it's hard to imagine replacing Pitt as the star, given that he was a major draw for audiences. So if this is to be believed and World War Z 2 will be starting anew with a "clean slate," does this mean there's a major time jump in store? Perhaps it will be about tracking down more information on patient zero. At this point, it's unclear.
Juan Antonio Bayona, who directed the Oscar-nominated The Impossible, is at the helm for the zombie sequel. The first World War Z was originally planned to be the start of an entire movie trilogy, and Pitt had said while out promoting the film that they "could barely get a fraction of the book in [the movie]." World War Z 2 is expected at least in some way to follow the original book by Max Brooks, which acts as an oral history of a fictional zombie epidemic/war. The first film did surprisingly well in theaters despite a lukewarm critical response. With a production budget of $190 million, it earned more than $540 million worldwide. Pitt already has a bustling schedule with roles in The Audition and opposite his wife in By the Sea, while he continues to beef up his resume as a producer. So, all we can hope for is that he continues to take his time and focus on making the best sequel he can working with Steve Knight.
Your Daily Blend of Entertainment News