Brad Pitt Says They Have 'So Many Ideas' For The World War Z Sequel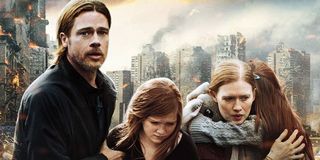 Admittedly, after all the reports of problems on set, we thought Brad Pitt's ambitious zombie epic World War Z was destined for failure. But proving that production hell doesn't always result in a train wreck of a movie (cough The Lone Ranger cough), the film that Pitt produced and fronted defied expectations and became one of the summer's biggest hits. Having scored surprised critical praise and more than $536 million worldwide, the $190 million horror-thriller was deemed a major success. So, a sequel almost seems a no-brainer, right?
In the wake of Pitt's stellar summer success, Pitt is attending the Toronto International Film Festival to promote his upcoming drama 12 Years a Slave. Asked about a part two to the most financially successful film in his career, Pitt told Variety:
Check out a video excerpt of this interview below to enjoy Pitt's clearly pleased smile at World War Z's remarkable turnaround.
It'll be interesting to see where Pitt and his production team decide to take the story of World War Z from where the first film left off. The original shooting script ended in a clear-cut starting spot for a sequel, with Pitt's character Gerry on a quest to reunite with his wife and children, who'd ended up out of government protection and under the thumb of a sleazy soldier. However, that ending was (thankfully) scrapped, and instead the final film ended (SPOILERS AHEAD) with Gerry uncovering a sort of vaccine against attracting zombie attention. This leaves the possibilities for World War Z2 (or maybe WWZ II) far more open-ended.
In the film's final moments, a beleaguered Gerry, back in the arms of his family, says, "This isn't the end. Not even close." But is it the end of his story? It seems unlikely Pitt would want to pass off a lead role for the franchise to anyone else. But since the filmmakers have set up such an expansive world, the story for World War Z's sequel could really go anywhere. Perhaps a leap into the future with his kids grown? Perhaps a new family to focus on altogether? Whether you've read the Max Brooks book the film is based on, or just enjoyed the movie as is, tell us in comments where you'd like to see a sequel go.
Your Daily Blend of Entertainment News
Staff writer at CinemaBlend.