X-Men: Apocalypse Is Bringing Back This Cool Mutant-Hunting Device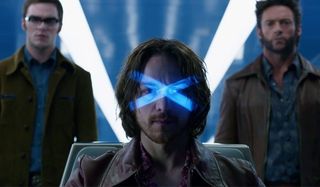 X-Men: Apocalypse, the upcoming comic book film sequel featuring our favorite mutants has just released a small preview glimpse regarding a signature searching device. While not explicitly saying so, director, Bryan Singer's latest social media tease seems to reveal the new design for Charles Xavier's Cerebro helmet. (Either that, or Mega Man is joining the X-Men.)
As we can see, Singer has posted a photo of himself working off his laptop, however, its connection to a TV monitor reveals just exactly what seemed to have his attention at the moment: designs for a clearly Cerebro-looking helmet. While he didn't come right out and say so, this does seem to be the case; especially considering the fact that Singer, just a few weeks back, posted a teaser photo set in what appears to be the Cerebro room. Thus, this could be, in a way, our first glimpse of James McAvoy as Charles Xavier in X-Men: Apocalypse, which is actually pretty cool.
Apocalypse will come off the magnificent mutant momentum from 2014's Days of Future Past in which, among other major, major events, Charles was forced to sacrifice his newfound treatment-induced ability to achieve bipedal locomotion, for a wheelchair bound life in which his spectacular telepathic powers were no longer suppressed by said treatment. The film will reportedly make a 10-year time jump from the 1973 20th century setting of Days over to the very different era of 1983. It will certainly give us a very different more assured, follicularly-challenged version of McAvoy's Xavier, as well. The conflict between living his life as a "normal" person was certainly resolved in the last film and he has since dedicated his efforts towards helping the wayward mutants of the world discover, control and harness their powers for the cause of good. For Xavier, Cerebro is the first step in that process.
Dating back to its first comic book appearance in The Uncanny X-Men #7 back in 1964, Cerebro is essentially a complex mechanical antenna booster for Xavier's telepathic powers, allowing him to detect "mutant brain waves" from people all over the planet. While its very nature is a bit intrusive in a Big Brother kind of sense, there are thankfully only a handful of mutants in the world powerful enough to utilize its purpose. In the current batch of X-Men films, beginning with 2011's X-Men: First Class, we saw the earliest version of the device constructed by the secretly hairy acrobatic wunderkind, Hank McCoy, aka Beast.
However, by the time we get to Days of Future Past in a setting a decade later, we see another early version of Cerebro (pictured above) set up in the X-Mansion, but it had not been used in a long time, evidenced by the dust Xavier had to blow off the helmet when using it again. This time with Singer's Apocalypse teaser, we see a more streamlined, aesthetically solid helmet that will certainly enjoy the fruits from 10 years of technological advances. (Even though it was a time when most people were still playing primitive blocky video games that "bleeped" and "blooped.")
X-Men: Apocalypse looks to utilize a more badass version of Cerebro to put together the classic X-Men lineup and humble its titular self-anointed mutant deity when it hits theaters on May 27, 2016.
Your Daily Blend of Entertainment News
Thank you for signing up to CinemaBlend. You will receive a verification email shortly.
There was a problem. Please refresh the page and try again.