X-Men: Apocalypse - What We Know So Far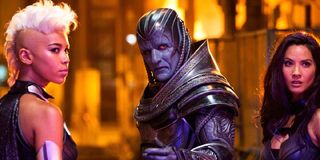 Once upon a time, sequels to major blockbusters were a bonus, not a given. Now, studios enter into long-term negotiations with actors, directors and screenwriters to map out multi-part storylines knowing that it's not enough just to deliver a hit movie – you have to build a franchise.
20th Century Fox understands that about the current X-Men series, which continues to ride a wave of superhero-fan goodwill thanks to the spectacular X-Men: Days of Future Past. Yet, even before a minute of that movie had screened in theaters, the studio already had plans in place for the next film: X-Men: Age of Apocalypse.
What do we already know about the next X-Men movie? A decent amount, actually, as Bryan Singer was very active on social media during the filming of X-Men: Apocalypse as he works to deliver the latest in mutant mayhem, and we got this brand new trailer at the end of 2015:
Who is making this movie? What's going on with the plot? How do all of the characters from the previous movies factor in? Well, slip on your cinematic Cerebro because you're about to be schooled in all things X-Men: Apocalypse, starting with:
The Director
After a multi-year absence from the franchise he helped launch back in 2000, Bryan Singer made his triumphant return to the superhero series for X-Men: Days of Future Past. And by reuniting his original X-Men with the younger X-Men: First Class team, Singer appeared to have laid the groundwork for multiple sequels that could utilize various members of the massive mutant ensemble (while also hitting the reset button on the continuity). Singer has been working hard finishing X-Men: Apocalypse, and shared photos of from the set and provided other bits of insight. The filmmaker has promised that the movie will be more epic and longer than previous installments, and it's understandable why – there's a lot packed into this movie!
The Story
X-Men: Days of Future Past took place in the early 1970s, but X-Men: Apocalypse will be jumping ahead approximately a decade and will be set in the early 1980s. What this means is that Bryan Singer and his team are including younger versions of characters like Jean Grey, Cyclops and Storm in the narrative. Writer/producer Simon Kinberg has confirmed that the movie will be specifically set in 1983, or 10 years after the events of X-Men: Days of Future Past. Now that the existence of mutants has been exposed to the world, they wind up getting a mixed reaction – with some believing that they are holy figures. It's this belief that winds up in worshipers reawakening Apocalypse (Oscar Isaac), an immortal mutant from ancient Egypt who basically has the powers of a god. Of course, it's up to Professor Charles Xavier and his team of X-Men to stop this terrifying being before he destroys every human on Earth.
Professor Charles Xavier
Let's catch up with the most important character in the history of the X-Men. Remember how handsome James McAvoy was in X-Men: First Class and Days of Future Past, with his flowing locks of chestnut hair? That's all going away. It's been revealed that the telekinetic mutant has finally gone bald in X-Men: Apocalypse - though he hangs strong in the narrative as the leader of Charles Xavier's School For Gifted Youngsters and his team of mutants. Footages has revealed Xavier being put through emotional hell, as his former friend Magneto continues to betray him and the power of Apocalypse continues to overwhelm him. Should make for some very interesting material
Magneto
A survivor of the Holocaust who has seen the worst of mankind, Magneto (as portrayed by Michael Fassbender) has really managed to become an understandable and relatable character over the years – despite the fact that he has goals to wipe out humanity. Since X-Men: First Class, he has been torn between good and evil, and it's sadly been evil that has won out pretty much every time. He was last seen fleeing from Washington D.C. after being shot by Mystique, and there is serious trouble ahead for him in X-Men: Apocalypse.
It's not entirely clear what kind of life Magneto has been living in the years between 1973 and 1983, but the bad news is that he comes face to face and aligned with Apocalypse. In the new X-Men movie, he is one of the mutants who winds up being enlisted as one of the Four Horsemen – though exactly how The First One gets Magneto on his side isn't entirely clear right now.
Apocalypse
After locking horns with Magneto over the years, finally coming face to face with Bolivar Trask and his dastardly Sentinels in X-Men: Days of Future Past, the X-Men are now ready to battle Apocalypse – who we got our first look of in the end-credits sequence of X-Men: Days of Future Past. That brief clip, which showed Apocalypse using his powers to manipulate the Great Pyramids in ancient Egypt, was included to suggest that this mutant has been around for a VERY long time… and at one point in this existence, he was viewed to be a god.
Who is Apocalypse? The Marvel Comics Database reveals that his given name, En Sabah Nur, translates as "The First One," and it's a fitting name given that Apocalypse was the first mutant in existence. He was born with grey skin and blue traces around his features, and had powerful gifts from the time of his birth. Apocalypse's various powers include flight, invulnerability, superhuman strength, teleportation, telekinesis … basically, he's invincible. His roots trace back to ancient Egypt (hence, the setting of the Days of Future Past clip), and his difficult lifespan included bouts of enslavement, and fierce battles for power. Along the way, he typically enlists four mutants to serve as his loyal minions – called the Four Horsemen: Pestilence, Famine, War and Death. We don't specifically know how deep into Apocalypse's rich history the movie will plunge, as there are countless volumes of X-Men comics on which the film can draw (literally, at one point, Apocalypse fights and kills Dracula in the X-Men books), the debut trailer reveals that he is ready to wipe all humans out and usher in a new era for mutants.
Oscar Isaac has been handed this important villainous role, meaning he will move directly from being on screen in Star Wars: The Force Awakens to Singer's X-Men world. He is becoming a powerhouse in the blockbuster realm. Do you like the casting? What about his costume (seen above)? Because a lot of fans have compared him to Ivan Ooze. Fair?
Cyclops
In the original trilogy of X-Men movies, Cyclops a.k.a. Scott Summers was portrayed by James Marsden… and while fans had no issue with the performance, they weren't too happy with the way the character was written. With most of the focus in the films directed to Wolverine, Cyclops found his role minimized (despite being a team leader), and just came across as a jerk who is worried that his girlfriend is going to leave him.
Thanks to the timeline-changing events in X-Men: Days of Future Past, however, all of those movies have been completely wiped out of continuity, and X-Men: Apocalypse offers an opportunity to start over again. Tye Sheridan will be playing the young Scott Summers, who has been described as a kid who most definitely isn't ready to start leading mutants into battle quite yet. That being said, he will be playing for the good guys unlike some of the other young mutants…
Jean Grey
Famke Janssen introduced movie-goers to the incredible and dangerous telekinetic powers of Jean Grey, but she is another character undergoing a tiny reboot for X-Men: Apocalypse. On the now erased timeline, the young Jean Grey was played by actress Haley Ramm, but the future of the redheaded hero rests in the hands of Game of Thrones star Sophie Turner.
In the first trailer for X-Men: Apocalypse, we see right off the bat that Jean Grey's powers are just starting to get a little out of control. She is having apocalyptic visions in her dreams, and while Professor Charles Xavier tries to calm her down, she is rightly worried about what's coming. The footage shows that Jean Grey will be fighting as a member of the X-Men in the movie, though Simon Kinberg has confirmed that the Dark Phoenix route is still very much an option.
Storm
Up-and-coming actress Alexandra Shipp will be the brand new incarnation of Storm in the X-Men universe going forward – replacing Halle Berry – and she is entering the fray with some dark material to work with. Sporting a white Mohawk that the character infamously wore in X-Men comics during the 1980s, the weather-controlling mutant will not actually be fighting for the side of good in X-Men: Apocalypse, but will instead be another one of the Four Horsemen.
We will be introduced to Storm a.k.a. Ororo Munroe as a troubled kid (part of her origin is as a thief living in Egypt), and it seems that Apocalypse will use his powers of manipulation to get her to join his side. Just because of the character's legacy, we expect that she will somehow be spared in X-Men: Apocalypse's final battle and eventually converted to become a member of the X-Men, but we're intrigued how all of that goes down.
Nightcrawler
Cyclops, Storm and Jean aren't the only familiar faces getting a "casting" makeover. Bryan Singer announced that Nightcrawler, who came to life in the director's X2: X-Men United played by Alan Cumming, will be an integral part or next year's X-Men: Apocalypse. Again, this will be a younger version of the character, played on screen by Let Me In and The Road star Kodi Smit-McPhee. Singer clearly has admiration and affection for the hero, and he showed in X2 that he understands how to manifest Nightcrawler's teleportation powers with a proper "Bamf!" We can't wait to see what he has in store for Apocalypse.
Beast
Along with Professor X, Magneto and Mystique, Beast has been on a very specific journey since the events of X-Men: First Class. He has struggled with romantic feelings towards Mystique, has had some serious body issues, and served at Xavier's side when he was at his weakest.
So what does the future hold for Beast in X-Men: Apocalypse? Outside of the fact that we know he will be back at the helm of the Blackbird, we really don't know. He has his powers under control, only turning blue and fuzzy in moments of intense stress, but we'll see if that's still the case once Apocalypse is through with him.
Mystique
In the original X-Men trilogy, we were introduced to Mystique (Rebecca Romijn) as a ruthless sidekick of Magneto's, but that has all changed since Jennifer Lawrence took over the part. Not only was a deeper relationship established between her and Charles Xavier, but the fact that she didn't assassinate Bolivar Trask means that she is now headed down a much different path than just being a key member of the Brotherhood of Mutants.
At the end of X-Men: Days of Future Past, Mystique officially breaks things off with Magneto – actually going as far as to shoot him – and also takes Wolverine into custody (disguised as William Stryker), but how her relationship will stand with Professor X and the X-Men is a mystery in Apocalypse. The trailer shows her suiting up with the team, but what exactly could have happened in the last decade to lead to that point?
Jubilee
Prior to X-Men: Apocalypse, Jubilee a.k.a. Jubilation Lee was actually portrayed by two different actresses in the X-Men movies – Katrina Florence and Kea Wong – but the character never really got any spotlight attention. That will very much change in Bryan Singer's latest X-Men title.
Sporting the classic yellow jacket and pink sunglasses, Lana Condor will be making her big screen debut playing Jubilee in X-Men: Apocalypse. Very little has been revealed about her character so far (including whether or not she still fires sparks from her finger tips), but more should be revealed as more footage is shown.
Psylocke
There's no shortage of characters in Bryan Singer's X-Men: Apocalypse, but that hasn't stopped the director from casting actors in the role of fan-favorite heroes. The Newsroom and Magic Mike co-star Olivia Munn has been cast as the big screen version of Psylocke - a gifted telepath with the power of telekinesis and is super handy with a sword. Looks at the action moves Munn shared on Instagram!
Psylocke is certainly a complex character in the comics, but X-Men: Apocalypse will be introducing her as a villain. Along with the aforementioned Magneto and Storm, she is yet another member of Apocalypse's Four Horsemen – and we assume that she will be bringing the hurt to the mutants fighting to save the world.
Angel
Warren Worthington III has been featured in the X-Men movies before. Ben Foster played Angel in Brett Ratner's ill-fated X-Men: The Last Stand, though the sequel tried too hard to cram the hero's arc into one movie and wound up seriously shortchanging him. This, naturally, makes us wonder how Singer will approach Angel, because British actor Ben Hardy has been confirmed to be playing him on screen in X-Men: Apocalypse.
As any fan of the comics will tell you, this inclusion makes sense. In Marvel Comics, Angel fell under the spell of Apocalypse, even morphing into the evil Archangel and having his beautiful white wings replaced with metal ones. And guess what? That's going to be happening on the big screen as well, as Angel will join Magneto, Storm and Psylocke as the final member of the Four Horsemen.
Quicksilver
Evan Peters wowed crowds with his performance as Quicksilver in X-Men: Days of Future Past, and many would argue stole the show out from A-list co-stars Hugh Jackman, Michael Fassbender and James McAvoy with his spectacular prison-break sequence. Acknowledging the fact that fans loved the Quicksilver scenes from X-Men: Days of Future Past, screenwriter Simon Kinberg has confirmed that he's getting a much bigger role in X-Men: Apocalypse, saying that they want to go deeper into the motivations of the character while also figuring out new ways to showcase his unique powers.
Wolverine
To this point, Wolverine (as played by Hugh Jackman) is the only character to appear in every single X-Men film… but whether or not that streak will continue with X-Men: Apocalypse is unclear at this point. The actor is getting ready to say farewell to the character with another standalone Wolverine solo film/sequel with director James Mangold back at the helm, but we don't know if he will be joining the action against The First Mutant.
We mostly want Wolverine to show up in X-Men: Apocalypse because there are some seriously big questions that we still need answered. As mentioned earlier, the end of Days of Future Past had Wolverine's body being fished out and taken by Mystique disguised as William Stryker… but does this mean that Logan never went through the Weapon X program? Presumably he winds up getting adamantium coated to his skeleton some way, but how? If we don't get the answer in Apocalypse, we may just have to wait for the untitled Wolverine 3.
Your Daily Blend of Entertainment News
Assistant Managing Editor
NJ native who calls LA home and lives in a Dreamatorium. A decade-plus CinemaBlend veteran who is endlessly enthusiastic about the career he's dreamt of since seventh grade.