X-Men: Apocalypse Is Probably Adding Yet Another Classic Female Mutant Hero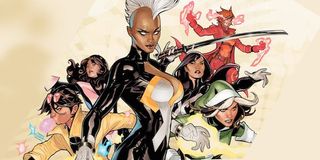 X-Men: Apocalypse has been accumulating a diverse selection of mutants this week. On Tuesday we learned that Wolverine, an adult Storm and Gambit would be making cameo appearances, and the next day it was announced that Lana Condor had been cast as Jubilee. Now Psylocke is the latest female hero that has been added to the 2016 blockbuster's lineup.
Film writer Jeff Sneider said on Meet The Movie Press today that she will be the latest "B-team mutant" that Bryan Singer has added to X-Men: Apocalypse. An actress hasn't been found yet to play her, but if it's not leaked by a press outlet beforehand, presumably we can expect Singer to announce the casting on his Instagram account like he did with Condor, Kodi Smit-McPhee and Ben Hardy.
Psylocke's civilian identity Betsy Braddock made her comic book debut in 1976 in the Marvel UK series Captain Britain. It wasn't until 1986 that she was integrated into the X-Men world and transformed into Psylocke where she has been a member of the X-Men, X-Force, Excalibur and many other teams. Her mutant abilities have been altered several times over the years, but have included telepathy, telekinesis, precognition and manifesting psychic knives (and later katanas), which can disrupt a foe's mind and nervous system.
While this will likely be Psylocke's biggest appearance outside of the comic books, this isn't her first foray into film. She was first alluded to when her name popped up on William Stryker's computer in X2: X-Men United, and later appeared as a minor villain in X-Men: The Last Stand as one of the Omegas serving Magneto, alongside Callisto, Kid Omega and Arclight. Psylocke was also listed in one of the early drafts for X-Men: Days of Future Past, but she didn't make the final cut. Her other media appearances include X-Men: The Animated Series and numerous video games like X-Men 2: Clone Wars and Marvel vs. Capcom Origins.
Given that X-Men: Apocalypse is primarily taking place in 1983, it's unclear exactly how they'll acknowledge whether she's a teen or adult when X-Men: The Last Stand takes place more than 20 years afterwards. Then again, this wouldn't be the first time that the film series has overlooked a character's age just so they could be included. This could also be another instance of two versions of the same characters existing in different time periods, like the two Emma Frosts in X-Men Origins: Wolverine and X-Men: First Class. One possible reason for her inclusion is as one of Apocalypse's Four Horsemen, which was a title she briefly held in the comics.
X-Men: Apocalypse hits heaters on May 27, 2016.
Your Daily Blend of Entertainment News
Connoisseur of Marvel, DC, Star Wars, John Wick, MonsterVerse and Doctor Who lore. He's aware he looks like Harry Potter and Clark Kent.
Your Daily Blend of Entertainment News
Thank you for signing up to CinemaBlend. You will receive a verification email shortly.
There was a problem. Please refresh the page and try again.