X-Men: Apocalypse Probably Bringing In The Morlocks, Get The Details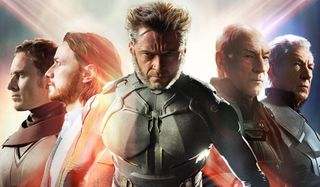 Part of the fun of the build up to superhero movies is the speculation and amateur sleuthing that goes on as we all try to figure out which of our favorite elements will make the transition from page to screen. In this day and age of ubiquitous social media, we often get hints and insight from the people involved in these movies, and now director Bryan Singer has told us that we can expect to see Caliban in his upcoming X-Men: Apocalypse, and probably the Morlocks too.
Singer took to Instagram to reveal this photo of an underground lair that looks ominous and gloomy. It arrived with the caption, "Shooting Caliban's place of 'business.'" Though it arrived on the down low and without much fanfare, this is a detail we didn't know before now, and it provides some interesting potential information about X-Men: Apocalypse. We've also never seen Caliban on the big screen before, so if nothing else, this will be a first for the this family of films—he has, however, shown up on TV in both X-Men: The Animated Series and X-Men: Evolution.
An albino mutant, Chris Claremont and Dave Cockrum created Caliban, who first appeared in 1981. He has the ability to sense and track other mutants and, working with Callisto, he gathers others and organizes them into a group known as the Morlocks. He lives in the abandoned sewers and subway tunnels that run beneath Manhattan, which, from the appearance of the set Singer showed off in his photo, is likely where that scene goes down.
Over his tenure in the comics, Caliban has been a member of the X-Men, X-Force, and X-Factor, in addition to the Morlocks. His adventures have put him in contact with a number of characters who appear in Apocalypse, most notably Angel, Jubilee, and Storm (and also Kitty Pride, played by Ellen Page in previous X-Men films, but who does not appear to be in Apocalypse), and he fits into the '80s aesthetic the movie is going for. He's also had a rough go of it in the comics, being killed off and resurrected, only to be killed off again. Tough break.
There's no word on who will play Caliban in the movie, or how big a role he will have, but it will be interesting to see how he fits into the grand scheme of things. He does eventually become a servant of Apocalypse (Oscar Isaac), so that seems like an avenue that will probably come into play, but we'll have to wait and see. It's also possible this could set up a tie-in with the Ryan Reynolds-starring Deadpool, as Angel Dust, played by MMA fighter Gina Carano in that movie, is also a Morlock and lives in sewers very similar to the one we see here.
Like most things with comic book movies, we won't likely know the answer to any of these questions for sure until X-Men: Apocalypse hits theaters on May 27, 2016.
Your Daily Blend of Entertainment News
Thank you for signing up to CinemaBlend. You will receive a verification email shortly.
There was a problem. Please refresh the page and try again.