See Ryan Reynolds Hang Out With A Sick Kid On The Deadpool Set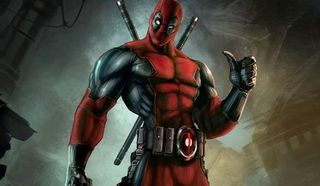 Deadpool is not a kid-friendly movie. Its title character gets off on beating his enemies to a bloody pulp until they're left battered in a pool of their own sick on the concrete. But when it comes to Ryan Reynolds, the man couldn't be more willing to make a young Deadpool fan's wish come true.
Reynolds posted photos to Instagram showing his visit with Tony Acevedo. Tony is a young boy waging a war against Hodgkin's Disease, a type of lymphoma. With the help of the Make-A-Wish Foundation, he was able to fulfill his dream of meeting Deadpool himself and was allowed the once-in-a-lifetime opportunity to visit the set of the highly anticipated X-Men spinoff.
As Reynolds wrote in a statement accompanying the photos, Tony donned the infamous Deadpool mask and gloves, and proceeded to beat him "about the face, arms and jugular with blazing speed." He finished by writing, "Hodgkin's Disease best be wearing its brown pants."
Reynolds has been keeping his fans up to date on the latest happenings from the set, including sharing a shot of him suited up in character and diving over a car. But this is the most heartwarming image we've seen since Batkid raced across San Francisco. A week ago, Reynolds played host to another kid fulfilling her dream of meeting Deadpool. Fifteen-year-old Calista King came to the set with her mother and grandmother, was feature,d in a scene and got to take home one of Deadpool's blades. All in all, this is proving to be Reynold's most charitable film yet, even if his character swears a lot and kills people.
Unfortunately for Tony, even though he may be one of biggest Deadpool fans out there, the movie version might not be appropriate for his young mind. As Reynolds announced while decapitating Mario Lopez with a graceful swing of his katana in that viral video, Deadpool is rated R. We already know it's going to be a bloodbath, based on that leaked test footage and all the photos of Reynolds' bleeding face on his Instagram account.
Deadpool tells the story of Wade Wilson, a former Special Forces operative who undergoes experimental surgery that leaves him royally messed up but with accelerated healing abilities. Now he's on a mission to track down the people that did this to him and, you know, go all Deadpool on them. The film features a supporting cast that includes T.J. Miller as Weasel, Gina Carano as Angel Dust, Morena Baccarin as Vanessa Carlysle, Ed Skrein as Ajax, and Brianna Hildebrand as Negasonic Teenage Warhead. Tim Miller is directing from a script by Simon Kinberg, and the film hits theaters on February 12, 2016.
Your Daily Blend of Entertainment News
Your Daily Blend of Entertainment News
Thank you for signing up to CinemaBlend. You will receive a verification email shortly.
There was a problem. Please refresh the page and try again.