Yoga Hosers: Watch Johnny Depp And Kevin Smith's Daughters Flirt In First Clip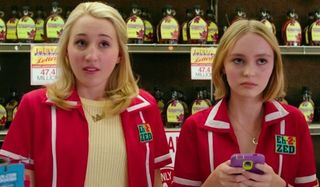 Kevin Smith's next film is an all out family affair. As you'd expect, he both wrote and directed Yoga Hosers, but not only did his wife, Jennifer Schwalbach, produce, but his daughter, Harley Quinn Smith, stars in the lead role. It doesn't stop there though, because Johnny Depp's daughter, Lily-Rose Depp, is taking the other lead role, while her famous father and mother, Vanessa Paradis, have parts too. Because of this, intrigue over Yoga Hosers is rather rife, and the first clip for the comedy horror suggests that it's going to have much more visual flair than Smith's previous works, while still possessing an anarchic air. Check it out below.
Yoga Hosers looks cute. Sure, there's not all that much to go on in the clip, but both Harley Quinn Smith and Lily-Rose Depp seem perfect in their roles as Colleen McKenzie and Colleen Collette, respectively, yinging and yanging humorously. The fact that they work in a convenience store immediately brings up memories of Smith's debut effort, Clerks. Which is far from a bad comparison to have. In fact, you could even say that their relationship immediately compares to that of Brian O'Halloran's Dante Hicks and Jeff Anderson's Randal Graves from the 1994 classic indie comedy.
In Yoga Hosers, Harley Quinn and Lily-Rose play 15-year-old yoga enthusiasts who both have the same name and work at the same convenience store, Eh-2-Zed in Manitoba. As the above clips shows, Harley Quinn's Colleen gets rather excited when the pair are invited to a senior party, hosted by Austin Butler's hunky Hunter Colloway.
But this excitement is immediately undercut when ancient evil forces rise from underneath Canada's crust, and an array of monsters invade the region and threaten to ruin the Colleens' attempts to get to the party. In order to help them battle past these beings, the pair work alongside Guy Lapointe, a legendary Montreal man-hunter who just so happens to be played by Johnny Depp.
Yoga Hosers is actually a spin-off of Kevin Smith's previous film, Tusk, and it features many of the same cast members, including the returning Justin Long, Genesis Rodriguez, Haley Joel Osment, Ralph Garmen, and Depp, while Nathasha Lyonne, Tony Hale, Adam Brody, Jason Mewes, and Smith himself feature this time too. In fact, Smith plays the villains of the film, which are foot-tall alien Nazis made of Bratwurst that are called Bratzis. Clever.
Yoga Hosers actually premiered at the Sundance Film Festival over the weekend, and we'll probably find out in the next few days whether or not it will be picked up for distribution.
Your Daily Blend of Entertainment News
Thank you for signing up to CinemaBlend. You will receive a verification email shortly.
There was a problem. Please refresh the page and try again.