Straight Outta Compton Cut A Ton Of Footage, Expect A Much Longer Director's Cut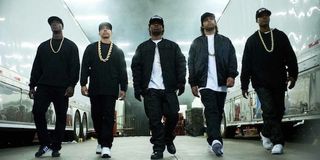 In case you missed it, Universal's epic run at the box office continued this weekend as N.W. A. biopic Straight Outta Compton took on all comers and emerged victorious. One issue many, including our own critic, had with the film is that there is so much material that some elements were barely touched on, skimmed over, or left out completely. But when a director's cut drops, you can expect to see a lot more.
The cast and crew sat down for an extensive conversation with Rolling Stone, and director F. Gary Gray revealed that the initial cut of the movie was more than an hour longer than the already two-hour-and-twenty-seven-minute version that hit theaters. Talking about how they arrived at the theatrical cut, Gray said:
This is perhaps the biggest issue facing biopics across the board. Even if your subject lived a boring existence—and then why are you making a movie about this person?—fitting the details of an entire life into a single movie is hard. Some things are going to be left out. And when you're dealing with a group comprised of five people, those problems are compounded even further.
That appears to be the biggest issue that many have with Straight Outta Compton, that after a strong start it falls into typical biopic skimming over the surface of events. Gray did say that he expects his version, his director's cut, to get a home video release eventually, and even hinted at what we could see.
Gray added that one thing the longer gut will address is the group's notoriously shoddy treatment of women—an issue that is present both lyrically and in real life. N.W.A. did write a song called "A Bitch Iz A Bitch after all, which stirred up quite a bit of controversy, and this article details some of member's issues with violence against women over the years.
Despite omissions, Straight Outta Compton has received largely positive reviews from critics, who have praised everything from the music and performances to the realistic portrayals of the racial tension and struggles faced by African American performers trying to succeed without compromising themselves. The film obviously connected with audiences. It's $56 million opening weekend take was bigger than the $55 million Tom Cruise had with Mission: Impossible—Rogue Nation, and damn close to the $57 million Marvel managed with Ant-Man. Straight Outta Compton also had the biggest opening of any music biopic ever, by a long ways—the previous high water mark in that realm was Walk the Line, which opened with $22 million.
Straight Outta Compton is in theaters now.
Your Daily Blend of Entertainment News
Thank you for signing up to CinemaBlend. You will receive a verification email shortly.
There was a problem. Please refresh the page and try again.