Zac Efron Becomes A Real Grown-Up By Getting An Office Job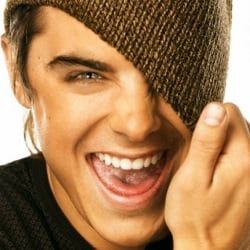 Zac Efron has been working hard lately to be treated like a grown-up, first bailing on the Footloose remake because it was too similar to his High School Musical role, then signing on to play a finance whitz, a college student trained by the CIA, and coming up soon, a guy who chats with his dead brother in Charlie St. Cloud.
Now the growing pains will continue into a much more mundane stage of life: the office. THR reports that Warner Bros. has picked up Jason Fliardi's untitled workplace comedy script as a vehicle for Efron to star in. The movie will also be one of the first efforts from Efron's new production shingle, which bears the distinctly un-grown-up name of Ninjas Runnin' Wild Productions. Baby steps, I guess. Other projects set up are Snabba cash and Fire, the films that will star Efron as the financial whitz and CIA college kid respectively, and Art of the Steal, an adaptation of a Wired magazine article about an accomplished thief.
In short, Efron is not taking his stardom for granted, and is making the smart move of developing his own projects instead of letting Hollywood determine his niche for him. Charlie St. Cloud, quite frankly, doesn't look to be that big a winner-- it looks mopey and sappy in a summer when we want action and lightness-- but I wouldn't worry about it getting in Efron's way. With those baby blues and an apparent knack for managing his career, he'll be riding that High School Musical toward an adult career with ease.
Staff Writer at CinemaBlend
Your Daily Blend of Entertainment News
Thank you for signing up to CinemaBlend. You will receive a verification email shortly.
There was a problem. Please refresh the page and try again.