Zac Efron Marries Judd Apatow's Wife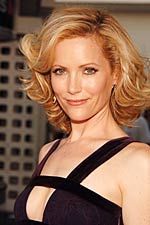 Zac Efron is doing a movie called 17, and there's some hope for those who aren't part of rabid Zac Efron fandom. The movie features teen heartthrob Efron in a Tom Hanks style role as a man who finds himself changed into a 17-year-old kid. Unlike Big, the movie will focus more on the transformed teenager dealing with high school again. If you're not thirteen and drooling over the High School Musical star though, there's a new reason to be excited: Efron's character will have the best wife ever.
How do we know she's the best wife ever? Because The Hollywood Reporter reports the character, Scarlett, will be played by Leslie Mann, best known for her work in The 40-Year-Old Virgin and Knocked Up. True fans also know her as Judd Apatow's wife. If she can make Apatow cool (and we all know it's the wife that truly makes the man), then she can bring hope to 17.
Truthfully, this is a bit of a departure for Mann, who typically isn't in "family friendly" pictures like this movie will probably be. Efron's target audience is a bit younger than Adam Sandler or Judd Apatow's. Still, exposure is always a good thing, and at least there's one thing to appeal to the non High School Musical crowd.
Your Daily Blend of Entertainment News