Zac Efron In Pirates Of The Caribbean 4?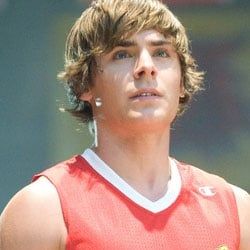 Still no official studio confirmation on the status of Pirates of the Caribbean 4, but the gossip keeps coming. The latest name rumored to be in the cast is High School Musical 3 star Zac Efron. Maybe Pirates 4 will be a musical? Yo ho ho, and tap dance on a bottle of rum?
Word of Efron's involvement comes from the National Enquirer, where next week they'll probably follow up this story with an expose into the secret life of the Chupacabra. But according to the National Enquirer, Efron is signed up to board the Black Pearl, and he'll earn a cool $10 million in cash to do it.
Interestingly, their story also claims that Efron was actually approached to replace Johnny Depp at one point, when Depp briefly balked at returning to Captain Jack. Disney wised up and plied Johnny with enough cash to get him on board, but Efron remained on their radar, and now they've found some sort of supporting role for him. That role is, they say, meant to groom Efron to replace Depp further on down the road. Replacing Johnny is a doomed idea but Zac's a pretty boy, so maybe he'll be the new Orlando Bloom. Got a blonde wig in your closet Efron?
It's Efron's existing relationship with Disney via High School Musical that makes this otherwise odd rumor somewhat plausible. At least as plausible as some of the others, one of which we're to blame for. In fact as part of the deal outlined by the Enquirer, Efron is also being chained to the High School Musical franchise for even longer, with his Pirates contract also serving as a means to force his return as Troy Bolton for High School Musical 4.
Your Daily Blend of Entertainment News
Thank you for signing up to CinemaBlend. You will receive a verification email shortly.
There was a problem. Please refresh the page and try again.