Zoe Saldana Attached To Star In Nina Simone Biopic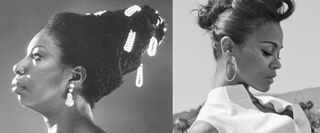 Often full of heartbreak and the remarkable music they inspire, the lives of great musicians have time and time again proved solid ground for Academy Award-winning biopics. From Jamie Foxx as Ray Charles in Ray to Sissy Spacek as Loretta Lynn in Coal Miner's Daughter and Marion Cotillard as Edith Piaf in La vie en rose, playing a singer plagues by pain is a great way to earn worldwide notice and score Oscar gold. The latest to join the ranks of these celebrated performers could be Zoe Saldana, who has been tapped to portray the great Nina Simone in an in-development biopic titled simply Nina.
The Grid reports Saldana is set to headline the film, which will focus on the incredible life of the songstress whose incomparable performance style still enchants and haunts listeners today. Over the course of a career that spanned nearly fifty years, Simone lent her unique musical stylings to classical music, jazz, blues, folk, gospel, pop and R&B. Her passion for music first led her to playing piano at small bars, but her first recording of the George Gershwin number, "I Loves You Porgy" scaled the Billboard charts and kicked off her storied career. A few years later, Simone became an activist in the Civil Rights movement and so shifted from sultry jazz to stirring protest songs like "To Be Young, Gifted, and Black," "Mississippi Goddam," and "Strange Fruit," which addressed the lynchings occurring across the South.
It's unclear at this point if Nina will attempt to cover the entirety of Simone's life, or focus a particular portion. Also unknown is if Saldana will attempt to perform as Simone, or if she'll lip-sync to old recordings. If the former, she has an incredible challenge ahead of her, as Simone's voice is so packed with fury, pain and passion, it's hard to imagine its equal. Still, Saldana's got an in intensity to her that should suit the role of this complex icon beautifully.
Get a taste of Simone's distinct song styling below with her bittersweet cover of "Here Comes the Sun":
Your Daily Blend of Entertainment News
Staff writer at CinemaBlend.
Your Daily Blend of Entertainment News
Thank you for signing up to CinemaBlend. You will receive a verification email shortly.
There was a problem. Please refresh the page and try again.