This Rotten Week: Predicting Central Intelligence And Finding Dory Reviews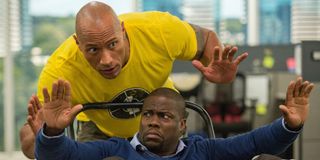 It's still the summer movie season, and this week we continue to see big titles arrive on the screen - this time around in the form of a big blockbuster comedy, and a highly-anticipated animated sequel. That's right, both Finding Dory and Central Intelligence are getting ready to arrive in theaters.
Just remember, I'm not reviewing these movies, but rather predicting where they'll end up on the Tomatometer. Let's take a look at This Rotten Week has to offer.
Dwayne Johnson and Kevin Hart are paired in Central Intelligence as a former chubby nerd turned incredibly jacked CIA agent, and a former jock homecoming king turned accountant. What ensues, judging by the trailers that have been released for the movie, looks ridiculous, over the top and damn funny. We know Hart has comedic chops already and Johnson has always has a not-so-sneaky funny side to him. Sure, he spends most of this time flexing his muscles and blowing things up, but the dude can act and this role looks perfect for him.
Directed by Rawson Marshall Thurber, who has had his ups and downs in the comedy space over the course of his career. He has Dodgeball _(70%) as one of better received movies critically, but there's also _We're the Millers (47%), which came out a few years ago and didn't get the same kind of approval. I suspect Central Intelligence falls closer to the former. The on-screen chemistry between Kevin Hart and Dwayne Johnson appears legit, with the showcased jokes well-timed. I'm down for it, and think this will be a hit with both the critics and the box office.
It seems inconceivable that a flick about fish essentially floating in circles could into such a wonderful movie, but Pixar films could take even the most mundane of topics or stories and turn it into pure cinematic gold. Finding Nemo was the fifth movie in the Pixar stable and rang in at a crazy 99% on the Rotten Tomatoes meter. That number would seem unthinkable, except for the fact that so many Pixar flicks hover around this vaunted territory. The studio has made it a habit of just churning out fantastic film after fantastic film, and it doesn't look like it will stop anytime soon. I say this in anticipation of Finding Dory, which looks like it will be yet anther critical hit for Pixar.
Finding Dory picks up a little after where Finding Nemo left off, and details the titular character's journey to find her family. If the trailer is any indication, the theater will be about dusty for this one, as is the case for most of the rest of the Pixar canon. Hell, I barely made it through the trailer between "Solsbury Hill" by Peter Gabriel and the story of Dory working to get back to her family despite suffering from short-term memory issues. Marlin and Nemo are back as well, along with director Andrew Stanton, who helmed the first film, and some fantastic Pixar works including Wall-E and A Bug's Life. Finding Dory is already sitting at 94% on the Tomatometer and I doubt it dips much, if at all.
It was a solid week for the Rotten Watch last time around, with two out of three in the zone and one just miss. First off, Now You See Me 2 (Predicted: 40% Actual: 35%) was within my personal 10% range of success. I know the first one was a box office hit and missed with critics. This one? Mostly the same thing. It didn't do quite as well in terms of ticket sales, but critics thought it was the same kind of entertaining but muddled mess.
Meanwhile, _The Conjuring 2 _(Predicted: 83% Actual: 75%) was another win, though I had a head start on it going in. This one didn't have the same immense scare factor as the first, and a definite theme of the reviews was "good but not great." It's hard to discern if the reviews were held strictly against the first movie are against the horror genre writ large. That being said, 75% is nothing to sneeze (or s@#$ your pants in terror) at, no matter the subject matter. For a sequel it's a true home run.
Finally, Warcraft (Predicted: 15% Actual: 27%) finished just off the mark, and has me more than a little pissed. It's tough for a movie to overcome early poor reviews, especially when some of those critics are members of the target audience. But Warcraft actually ticked up over the course of the week, and actuallyed finished in the merely bad range instead of the epically awful realm which is where I thought it was headed.
Next time around we'll have Free State of Jones, Independence Day: Resurgence, The Neon Demon and The Shallows. It's going to be a Rotten Week!
Doug began writing for CinemaBlend back when Terminator: The Sarah Connor Chronicles actually existed. Since then he's been writing This Rotten Week, predicting RottenTomatoes scores for movies you don't even remember for the better part of a decade. He can be found re-watching The Office for the infinity time.