The Latest Jason Bourne Footage May Reveal A Major Plot Point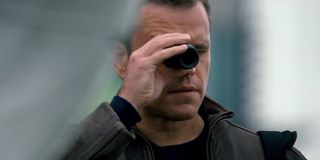 Warning: spoilers for Jason Bourne are ahead!
When 2007's The Bourne Ultimatum concluded, moviegoers figured the cinematic franchise had told all it could about Jason Bourne's past. It had been revealed that he was originally named David Webb, and that he volunteered for Operation Treadstone years earlier, turning him into a CIA super operative. However, four years after taking a detour with The Bourne Legacy, Jason is being revisited this summer in Jason Bourne, and a new preview for the blockbuster reveals that there's another secret from his past that will be revealed: his father was killed.
In earlier Jason Bourne previews, we heard the eponymous protagonist say that he volunteered for the CIA because of a lie, and the latest TV spot hints that said lie was the circumstances of his father's death. Here's what he says to the person he's interrogating:
Right after Jason says that line, there's a sinister shot of Tommy Lee Jones' character, CIA director Robert Dewey. While the previous trailers have certainly painted Dewey in a villainous light, it remains to be seen whether he had anything to do with Jason's father's death or if simply knew about what really happened and didn't say anything. However, later in the TV spot, Jason approaches Dewy and says "I know what you did." That, plus the franchise's track record with corrupt and evil figures in the intelligence community, implies that Dewey either ordered the killing or was involved, but obviously we can't say for sure yet. Regardless, this revelation looks like it will definitely anger Jason, and is likely one of the reasons that he's emerged from hiding years later.
You can watch the new Jason Bourne TV spot for yourself below:
Jason...sorry, David Webb's life before he joined Operation Treadstone wasn't touched upon in the previous Bourne movies. Obviously he had been in the military for a couple years, and he was eventually recruited by Chris Cooper's Conklin into the program. As those who've seen the movies know, Bourne lost his memories shortly before The Bourne Identity, but by The Bourne Ultimatum, he regained them. However, as Nicky Parsons told him in one of the earlier trailers, remembering everything doesn't mean you know everything. It seems that one of those things is how his father was really killed, and we're wagering that one of the reasons he joined the CIA was as a way to honor his father. Now he's going after the people who were really responsible, and if there's one thing we've learned over the years, it's that when Jason Bourne is charging, he can't be easily stopped.
Jason Bourne hits theaters on July 29.
Connoisseur of Marvel, DC, Star Wars, John Wick, MonsterVerse and Doctor Who lore. He's aware he looks like Harry Potter and Clark Kent.
Your Daily Blend of Entertainment News
Thank you for signing up to CinemaBlend. You will receive a verification email shortly.
There was a problem. Please refresh the page and try again.