Justice League Set Report: Your Questions Answered Here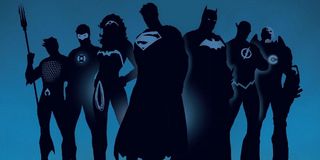 Just over a week ago, Warner Bros. and Zack Snyder called to invite me to the set of Justice League, where they eagerly updated us on the progress of their massive superhero blockbuster, then encouraged us to share our discoveries. This is unprecedented. Normally, following a Set Visit, a studio requires that we hold information until a designated time, so as to ... well, honestly, I don't know why this is done. It's harmful to the film to sit on valuable information, and based on today's reaction, fans are MOST curious about a film when it's in production.
How do I know this? Because you guys flooded my social media with Justice League questions, and I did my best to answer. You can read my coverage of the Set, so far, here, here, here, here and here. But below, I also collected a few of your best Justice League questions, and my answers! Keep sending them to me on my Twitter page. I'll keep adding questions and answers to this page, so bookmark it!
About Commissioner Gordon's Look
He looked tremendous. It was his first day on set, and we watched him film a scene with Batman, Wonder Woman, The Flash and Cyborg on a Gotham rooftop, right near the Bat Signal. He seemed haggard, beleaguered. He was visually perfect.
On The Flash's Justice League Costume
It was nothing like the Batman v Superman time travel scene, which looked MUCH bulkier, and had more armor. This design was slim. Armored. Like the INJUSTICE video game. Not muted. Colorful! In response to another question, I give the Flash suit a 9 out of 10. It easily was my favorite suit design of the visit (though Batman's two suits are amazing, as well). It's all scratched up and beaten because Barry Allen is running tests on it all the time. I think Flash is going to steal the Justice League movie.
On Shazam Showing Up In Justice League
Much like Green Lantern, there wasn't a hint of Shazam at all. We have a few more years until that movie is due to reach theaters, and I think Justice League is content to focus on the characters of Batman, Wonder Woman, The Flash, Cyborg, Aquaman and ... eventually, Superman.
Will Nightwing Cameo In Justice League?
Of course, anything is possible on a movie that still has 16 months to reach theaters. And there are elements of the story that Zack Snyder did NOT want to reveal. Almost all details on Superman were kept under wraps. But from everything that I saw, there was no indication of Nightwing showing up in this movie. Maybe in a Teen Titans movie somewhere down the line?
Is Lex Luthor In Justice League?
This question makes a lot of sense, and we did ask Zack Snyder, directly, about Lex Luthor showing up in the movie. Snyder played coy, saying he loved working with Jesse Eisenberg, but that Lex is in prison. He then added, with a laugh, that prisons in this universe are "very porous," so it sounds like a Luthor cameo -- or something larger -- is possible.
How Much Screen Time Will Superman Get?
The character that Deb and Zack Snyder kept under lock and key during our Set Visit was Kal-El himself, the Man of Steel. They assured us that he'd be part of the Justice League team, but we saw a decent amount of concept art, and he wasn't part of it. Will he be limited to a third-act reveal? Possibly. He'll be there. I just can't confirm, at the moment, how much screen time he gets in the film.
Justice League Cast Photo?
The one thing fans really wanted to get their hands on today was a photo of the team, assembled. I totally understand. And I think we will get that ... at San Diego Comic-Con. Warner Bros. is bringing Suicide Squad to SDCC in a big way. Ben Affleck has said that he'd be there, so I'm assuming they'll have a Justice League tease. We saw concept art of the team, so it easily can be shown. Heck, Snyder showed us FOOTAGE of a full scene, so there are JL things that can be shown at Comic-Con, if Snyder chooses.
Cyborg and Flash
No confirmation on that casting. But Ezra Miller and Ray Fisher have INCREDIBLE chemistry in scenes and in between takes. If they wanted to make The Flash a buddy comedy, these two are ready!
Parademons
Not in person, but we did see Concept Art of their designs. The two types of beasts that we saw in the concept art were predominantly green, or predominantly yellow. They each had two sets of wings, and goggled eyes. And based on what we were able to witness them film, the Parademons will create havoc in Gotham and Metropolis, abducting scientists and making things very difficult for Batman and the new Justice League members.
Sean O'Connell is a journalist and CinemaBlend's Managing Editor. He's frequently found on Twitter at @Sean_OConnell. ReelBlend cohost. A movie junkie who's Infatuated with comic-book films. Helped get the Snyder Cut released, then wrote a book about it.
Your Daily Blend of Entertainment News
Thank you for signing up to CinemaBlend. You will receive a verification email shortly.
There was a problem. Please refresh the page and try again.