The One Movie You Should Watch On Every Major Holiday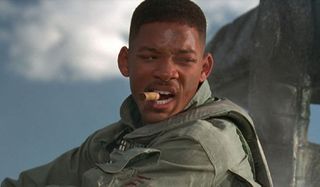 Holidays and movies really go hand-in-hand. From the filmmaker's perspective, holidays are all about bringing people together -- and that togetherness can be a perfect recipe for conflict, drama and/or comedy. For audiences, movies are perfect entertainment when you're trying to find something that your family and friends will enjoy. Of course, some films are better for some holidays than others -- which is why we've created this list.
Going through the calendar, we've pulled out the 11 biggest holidays in the United States, and determined what is the best movie to watch -- based on both the spirit and themes of the day as well as content and tone of the feature. Read on to see our choices, and hit the comments section with your own personal picks!
New Year's Day -- The Hangover
Through a certain lens, New Year's Day can been seen as a day of renewal -- as many make resolutions to change themselves in some kind of significant way over the next 365 days. In another lens, though, it's National Hangover Day, which is why we're calling this one for Todd Phillips' The Hangover. Unlike many of the other titles featured on this list, it doesn't actually feature a celebration of its assigned holiday, but people will surely be able to relate to the lead characters who find themselves regretting a night of partying just a little too hard.
Valentine's Day - Eternal Sunshine of the Spotless Mind
Unless you're both real cinefiles, Michel Gondry's Eternal Sunshine of the Spotless Mind might not be the best Valentine's Day choice for those just starting a relationship, but for everyone else it should be a tradition. Driven by both Gondry's incredible auteur style and beautiful performances from Jim Carrey and Kate Winslet, the movie is deeply open and honest about what it means to be in a relationship with someone you truly care for - and while most of the story unfolds after a breakup, it ultimately demonstrates with great poetry and emotion the incredible amount of power that love has over us.
St. Patrick's Day -- Waking Ned Devine
For St. Patrick's Day, the obvious key is finding a movie that is both dyed-in-the-wool Irish, and can be enjoyed while having a few too many drinks. Unfortunately a lot of Irish films are terrifically depressing, like Hunger or In The Name of the Father, but director Kirk Jones' Waking Ned Devine really hits all the marks for the holiday. It's an incredibly silly comedy with a bit of darkness to it, following a village in Ireland that conspires to pretend a dead man is alive to accept lottery winnings, and it's even more fun after a few green beers.
Mother's Day - The Sound Of Music
Cinema history is filled with amazing mothers, but in picking the perfect movie for Mother's Day, I figured it best to make a choice that most film-lovers can actually watch with their moms (sorry, Aliens). Robert Wise's The Sound Of Music was ultimately my choice for the holiday because it is fits the bill for the latter and features the former. Julie Andrews' Maria Rainer isn't a mother in the traditional sense, as she is actually a prospective nun taking care of a widower's seven children, but she is a wonderful maternal figure, and your own mom will love you for watching it with her.
Memorial Day - Saving Private Ryan
Memorial Day is the holiday we spend thinking about and commemorating those who gave their lives in times of battle, and while there are certainly many movies that feature this, Steven Spielberg's Saving Private Ryan goes as far as to actually open with the act of remembering fallen soldiers. Epic and often brutal, the movie is all about the sacrifices that are made in war and individuals tragically dying for what they truly believe in, and it serves as a powerful tribute that is incredibly fitting for an importance day of remembran
Father's Day - To Kill A Mockingbird
Fictional fathers don't get more legendary than Atticus Finch from To Kill A Mockingbird - and while Harper Lee's book is where the character was created, many will long associate the character with Gregory Peck's performance in director Robert Mulligan's 1962 adaptation of the classic novel. Much like the selection for mother's day, this is very much a movie that you want to sit down and watch with your dad -- with the option of making his day by explaining all the ways that Atticus reminds you of him.
Independence Day -- Independence Day
There are many great movies about the Revolutionary War and the events that actually led up to us having an Independence Day, but July 4th happens to land right smack dab in the middle of the summer blockbuster season, which is why we give the edge to Roland Emmerich's epic 1996 film Independence Day. On beyond having the best Independence Day-related speech in cinema history, it's also a blast from end to end, led by a star-making performance from Will Smith, and the awesomeness of Jeff Goldblum. Is it silly beyond words? Absolutely. But it's also an authentic summer classic.
Halloween - Halloween
That's right -- two entries in a row named after the holiday that the movie celebrates. I didn't plan it that way, it's just happening. In 1978, director John Carpenter unleashed an incredibly straight-forward horror film about a masked serial killer who murders a lot of people on the haunted last day of October, and it's a true masterpiece. Simplistic as it may be, it also has a tremendous number of legitimate scares, and really helped define the slasher subgenre that lives on to this day. Plus, it also happens to have one of the best scores ever, and just playing the main theme makes All Hallows Eve that much creepier.
Veterans Day - The Longest Day
While Memorial Day is a time for mourning the loss of our fallen soldiers, Veterans Day is the time that we celebrate the many brave men and women who fight for freedom and defense of our country, and I can't think of a movie that does this on a grander scale than 1962's The Longest Day. A film so epic it took a team of three directors - Ken Annakin, Andrew Marton and Bernhard Wicki - the adaptation of Cornelius Ryan's book of the same name is an epic cinematic portrayal of the D-Day landings at Normandy during World War II, and an incredible vision of one of the nation's greatest strategic victories.
Thanksgiving - Planes, Trains and Automobiles
On beyond being set around Thanksgiving, John Landis' Planes, Trains, and Automobiles isn't exactly a typical turkey day movie, as it saves the big family gathering and dinner for the very, very end, but what makes it a perfect holiday treat is the fact that it genuinely hits on all of the key and celebrated themes: patience, gratefulness, forgiveness and family. Perhaps most importantly, though, it's all wrapped into a ridiculous and fun road trip adventure that can be watched by the entire family as everyone is unbuttoning their pants and digesting.
Christmas - It's A Wonderful Life
It's fitting that Christmas is the last holiday on this list, because it is certainly the most challenging holiday to assign the perfect piece of cinema -- thanks to the fact that there are hundreds, if not thousands, of films about the yuletide. A big part of me wants to pick Die Hard or almost any title from Shane Black, and A Christmas Story was a close runner up, but I had to choose Frank Capra's It's A Wonderful Life. It's the true Christmas classic for a reason, as George Bailey is the ultimate everyman who learns the ultimate lesson of the season. Families will be watching It's A Wonderful Life for generations, and that's because there's no better Christmas movie.
Your Daily Blend of Entertainment News
Assistant Managing Editor
NJ native who calls LA home and lives in a Dreamatorium. A decade-plus CinemaBlend veteran who is endlessly enthusiastic about the career he's dreamt of since seventh grade.