Suicide Squad Will Feature An Important DC Organization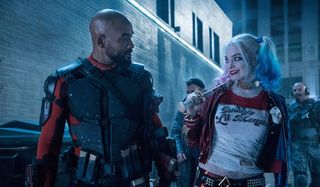 By now, most of you are quite familiar with Suicide Squad's general premise: incarcerated super villains are sent on a dangerous mission for the U.S. government in exchange for reduced prison time or another form of leniency. In the New 52, these criminals are overseen by A.R.G.U.S. (Advanced Research Group Uniting Super-Humans), and while the organization hasn't been named in any of the movie's previews, director David Ayer has confirmed it will have a presence, as evidenced by the picture below.
Ayer recently sent out this tweet of a manual titled, "Non-human Entity Joint Combat Operations." That title alone is enough to point towards a government agency dedicated towards monitoring metahumans, but if you look at the logo in the bottom, it looks similar to the A.R.G.U.S. one from the comics. Whether A.R.G.U.S. will be directly mentioned is another matter, but considering that several of Suicide Squad's characters (specifically Killer Croc, Enchantress and Diablo) have special abilities, we can likely count on Amanda Waller overseeing its operations, just like in the comics.
A.R.G.U.S. was introduced at the start of the New 52 in 2011. In addition to being the main liaisons with the Justice League, the organization also deals with various metahuman or extraterrestrial threats. Whenever possible, they're responsible for locking the specials beings away and confiscating any leftover technology to study for their own purposes. If it helps, think of them as operating similarly to S.H.I.E.L.D. in the Marvel universe. A.R.G.U.S. has also played a recurring role on the TV series Arrow, although in that continuity, the acronym stands for "Advanced Research Group United Support."
In addition to Amanda Waller, Wonder Woman's love interest, Colonel Steve Trevor, has also lead A.R.G.U.S. in the comics. As it stands in the DC Extended Universe, Chris Pine is playing Steve in the Wonder Woman movie, which takes place during World War I. It's possible that like how Peggy Carter co-founded S.H.I.E.L.D. in the MCU, Steve may go on to build A.R.G.U.S. almost 100 years before the present day events begin. Their mission would be the same as on the printed page: protect Earth from any dangerous aliens, metahumans and other kinds of powered beings. However, if the DCEU follows a similar path as the 1970s Wonder Woman TV series by having Pine (who has signed a multi-picture deal) also play Steve's great grandson in the present day, then moviegoers could see that Steve as a part of A.R.G.U.S. Whether that happens or not, fans should at least count on A.R.G.U.S. appearing in other upcoming DCEU movies.
Suicide Squad charges into theaters on August 5.
Connoisseur of Marvel, DC, Star Wars, John Wick, MonsterVerse and Doctor Who lore. He's aware he looks like Harry Potter and Clark Kent.
Your Daily Blend of Entertainment News
Thank you for signing up to CinemaBlend. You will receive a verification email shortly.
There was a problem. Please refresh the page and try again.