What You Need To Know About Steve Trevor, According To Chris Pine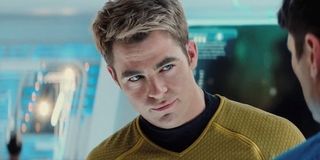 We still don't know all that much about DC's upcoming Batman v Superman: Dawn of Justice, and we're only a few months away from that movie. So when it comes to the comic book giant's slate of movies beyond that, like Wonder Woman, we have even less information. Still, as we movie forward into the DC Extended Universe, we're getting bits and pieces, and a bigger picture is starting to form. Chris Pine just dished a bit about his character, Steve Trevor, and what we need to know about him.
Pine, who also plays Captain James T. Kirk in the revamped Star Trek franchise, is out promoting his latest endeavor, the real-life high seas adventure The Finest Hours, but when he chatted with the Toronto Sun, his comic book movie future came up. Talking about his character, Pine said:
This doesn't shed much light on the specifics of Steve Trevor, but from what Chris Pine says, it falls more or less in line with what we know of him from the comics. It also sounds like he's been through some shit in his time.
In the source material, Steve Trevor is a military man, an intelligence officer in the U.S. Air Force during World War 2 in the comics (though Pine did confirm that Wonder Woman will at least partially take place during World War I). When his plane crashes on Themyscira, the isolated home island of the Amazons, he meets Princess Diana, who nurses him back to health, falls in love with him, and then accompanies him back to the outside world.
It is going to be interesting to see how closely the movie sticks to this storyline, as we've heard persistent rumors that Wonder Woman takes place in three different time periods—that's okay for Princess Dianna, played by Gal Gadot, as she doesn't age like the rest of us, but for the very mortal Steve Trevor, that'll be a trick to pull off. One rumor that's been going around is that Chris Pine actually plays two roles, including Steve Trevor's grandfather during the World War I scenes, and he is the one who crash lands on Themyscira. We're very curious.
Chris Pine went on to praise the elaborate costume designs and massive scenes with as many as 500 extras for really selling the period nature of the film. He also singled out director Patty Jenkins for nailing these scenes and for bringing a larger pop sensibility to Wonder Woman.
We'll be seeing a lot of Chris Pine coming up. The Finest Hours opens this month, on January 29; Star Trek Beyond, the third in the franchise, arrives this summer, on July 22; and Wonder Woman hits theaters June 23, 2017.
Your Daily Blend of Entertainment News