This Rotten Week: Predicting The BFG, The Legend Of Tarzan And The Purge: Election Year Reviews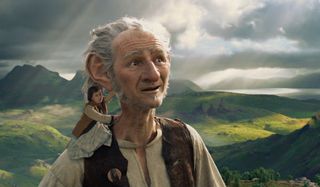 The summer blockbuster season is still rolling on - and this week is a special one, as it happens to be the first week of July. Will the crop of new movies get big reviews and blow up at the box office? We'll have to wait and see, as we have The BFG, The Legend of Tarzan and The Purge: Election Year arriving in a theater near you.
Let's Just remember, I'm not reviewing these movies, but rather predicting where they'll end up on the Tomatometer. Let's take a look at This Rotten Week has to offer.
In our day and age, it seems like The BFG would stand for something graphic - like if you were pissed off about something. It's perhaps a little too close to BFD, so when I see "The BFG," I can't think of another particular word that starts with "F" other than "friendly." Of course, that wasn't what Roald Dahl had in mind when he wrote the story, as he penned the book of the same name about a dream-capturing giant who takes a young orphan girl under his wing and off they go adventuring. Directed by the legendary Steven Spielberg, the big screen adaptation is live action movie with a heavy dose of CGI, and it certainly looks as though it has some magic flowing through its veins.
Steven Spielberg continues to churn out critical hit after critical hit theses days, with his latest being Bridge of Spies (91%) and Lincoln (90%). The guy may be pushing 70 years old, but he continues to make big movies that people love. Critics aren't as high on The BFG, which currently sits with a 70% on the Tomatometer. But that number really only looks low by comparison to Spielberg's incredible legacy. Appearing to be a very kid-friendly big screen adventure, I predict that the score will stay in this region as more reviews continue to flow in.
I will be the first to admit that I know very little about Tarzan. As such, going into the trailer for David Yates' The Legend of Tarzan assuming I would see a very cliche'd vision of the chest-beating jungle man who swing from vines saying crap like, "Me Tarzan, You Jane." I was wrong. What I thought would be a sophomoric romp through the jungle turns out to look pretty damn bad ass.
In a movie Mrs. Rotten Week will definitely drag me to see because she's one of the world's of the world's foremost Alexander Skarsgard fans, the titular character is actually coming back to the jungle after being a part of society for a good long while, but still swings from vines, jumps off cliffs, and a whole lot more (really all of the thing you wish you could do on a normal hike but are too much of a wuss). I'm pretty excited for this thing.
David Yates directs this movie after helming the last four Harry Potter movies, which got respective Rotten Tomatoes scores of 78%, 83%, 78% and 96%. In case it wasn't already clear, Yates knows how to to take iconic characters and turn out a watchable piece of cinema. I suspect he's done the same here. The cast, which also features Margot Robbie and Christoph Waltz, reinforces some of the positive speculation, and it certainly doesn't hurt that the thing looks visually stunning.
The Purge franchise continues chugging along by killing everyone in sight, take its high-concept idea to the next level for its third chapter. This one, called The Purge: Election Year, follows a Senator who wants to end the Purge, getting protection from the character played by Frank Grillo, who reprises his role from Purge: Anarchy after somehow managing to survive. What ensues appears just an onslaught of ever-increasing violence.
James DeMonaco, who directed both The Purge and The Purge: Anarchy, is back once again holding the pen directing after earning the first two movies scores of 37% and 56% respectively. That being said, this film surely doesn't really have the critics as the primary target. These things are made all for pure entertainment and the audience at large, where cheap films have the chance to make a real killing. I suspect this one is more of the same, with politicians thrown into the mix thanks to the fact that we are electing a new president this year.
I'm tempted to say that last week was a total bloodbath, and that's even with two of the four movies finishing within range. Sadly the only two I really cared about were epic misses. To start, Independence Day: Resurgence (Predicted: 63% Actual: 33%) diverged wildly from it's predecessor, and left audiences borderline pissed off at the vapidity of the production. Put it this way: my dad went opening night with his buddies and came back with this assessment: "Oof, that was bad." Pretty much all you need to know. I relied on critics having some leeway because they knew what they were getting on the way in. Nope. It just stunk.
Meanwhile, Free State of Jones (Predicted: 81% Actual: 40%) was another one I wanted so badly to be good. And then, this. Matthew McConaughey had been on a nice little run of critically favorable films. But this one brings it to a screeching halt. Critics called it boring and overly preachy with a "white savior" vibe that left it awkward. I'm all for freedom and shucking oppressive states, which is why I maybe wanted it to rock. But critics felt otherwise and panned it.
One of the winners was The Shallows (Predicted: 74% Actual: 74%) which was a rare direct hit. Without any early reviews in on this one I felt particularly good about the outcome. Some thought it was just another inferior Jaws ripoff, and that might be the case, but most critics liked it, feeling that it worked well enough for what is was as a shark vs. woman tale.
And finally, Neon Demon (Predicted: 41% Actual: 48%) was within range, though I did have a head start on it. This represents a slip for Nicolas Winding Refn, who is best known for major critical hits like Drive and Bronson. This one, exploring a weird and violent glimpse at the high end fashion world, just got too weird even for the critical crowd.
Next time around we've got Mike and Dave Need Wedding Dates and The Secret Life of Pets. It's gonna be a Rotten Week!
Doug began writing for CinemaBlend back when Terminator: The Sarah Connor Chronicles actually existed. Since then he's been writing This Rotten Week, predicting RottenTomatoes scores for movies you don't even remember for the better part of a decade. He can be found re-watching The Office for the infinity time.