Who Should Play Joey Chestnut In The Inevitable Hot Dog Eating Biopic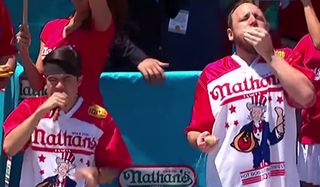 It's a story straight out of America's underdog, come-from-behind playbook. Joey "Jaws" Chestnut, the one-time competitive eating champion, regained his title at Nathan's Famous in Coney Island, NY on July 4, reclaiming the Mustard Yellow International Belt. The trophy had been Chestnut's so many times that seeing anyone else holding the belt was considered unusual. Only, Chestnut didn't have the belt prior to this year's competition, because he lost the tournament last year. He lost it to Matt "The Megatoad" Stonie... setting up a rematch for the ages.
On July 4, Joey Chestnut downed 70 hot dogs and their buns in 10 minutes time -- which was good for a new record in the annual food-eating competition. He beat his rival, Matt Stone, by an impressive 17 hot dogs, according to USA Today (opens in new tab). If you missed it, you can see the highlights here:
And if Hollywood is paying attention, there will be a movie about this exquisite -- nay, heroic -- victory in theaters in a few years. Movies like the documentary The King of Kong: A Fistful of Quarters and virtually every sports comedy ever made have proven our taste for odd, quirky competition stories, and Joey Chestnut losing his crown -- er, Mustard Yellow Belt -- is ideal fodder for a funny movie. Or, an Oscar contender. Here's who we'd cast as Joey "Jaws" Chestnut if we were making a movie about his beautiful victory this past July 4th.
Daniel Day-Lewis
Because any time you can get Daniel Day-Lewis for your project, no matter what the project is, you hire him. The man has played everyone from Abraham Lincoln to Christy Brown. He'd lose himself in the role of hot dog devourer Joey "Jaws" Chestnut, learning how to actually swallow 70 dogs in 10 minutes. That's DDL's method. Adding him to such a story would enhance the dramatic tone of this mock biopic, and could instantly push it into Oscar consideration. Don't you want to see those For Your Consideration ads? I know I do.
Jack Black
Perhaps too on the nose, but Jack Black would crush the role of a competitive eater. In addition, a project like this could rescue Black from the roles he has been offered over the years. Despite an uncredited, scene-stealing part in Sex Tape, JB has floundered in live-action parts that don't know how to use his physicality. Want to get Black back on the right track? Drop a plate of Nathan's hot dogs in front of him, and watch the movie magic happen.
Ben Foster
There are two reasons why I'm putting Ben Foster here. One, he kind of looks like Joey "Jaws" Chestnut. It wouldn't take much for Foster to alter his look to resemble the man he'd be playing in the biopic -- much like he did for Lance Armstrong in the recent The Program -- and looking like your subject often helps these movies to shine. Two, Ben Foster needs better roles. His two prestige projects this year were Warcraft and The Finest Hours -- two movies people went out of their way to avoid. Foster deserves better. Bring on the hot dogs.
Sean O'Connell is a journalist and CinemaBlend's Managing Editor. He's frequently found on Twitter at @Sean_OConnell. ReelBlend cohost. A movie junkie who's Infatuated with comic-book films. Helped get the Snyder Cut released, then wrote a book about it.
Your Daily Blend of Entertainment News
Thank you for signing up to CinemaBlend. You will receive a verification email shortly.
There was a problem. Please refresh the page and try again.