Mysterious Star Wars 8 Location Shared By Daisy Ridley In New Photo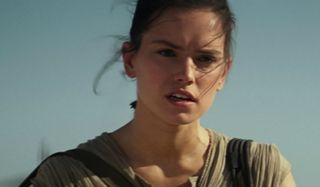 Obviously any news or information regarding Star Wars: Episode VIII is being kept firmly kept under wraps, but after its writer and director Rian Johnson shared an image of its production at a mysterious and slightly recognizable location, Daisy Ridley took this as a clear sign that she was allowed to do the same. In the process, she immediately sparked speculation over what the location could mean.
The above picture immediately brings to mind the location of Star Wars: The Force Awakens' final shot, which saw Daisy Ridley's Rey finally coming face to face with Mark Hamill's Luke Skywalker, who has spent the last few years staring out at the ocean pondering over quite a few thoughts.
The concluding scene of The Force Awakens was filmed at Skellig Michael, which is located just off the south-west coast of Ireland. Various members of Star Wars: Episode VIII's cast and crew have already shared images from Skellig Michael, which not only proves that the film returns to this location for the impending blockbuster, but also suggests that we might be spending quite a bit of time there. Something that Daisy Ridley's sharing of the above picture on Instagram teases even more so.
It's since been speculated that the location could be where Luke Skywalker trains Rey with the power of the Force and the ins and outs of how to become a Jedi. There have even been rumors that it's the home to a Jedi temple, while it's also believed that Star Wars: Episode VIII will pick up immediately where its predecessor left off as Rey and Luke become acquainted. On the other hand, maybe Daisy Ridley is actually just trying to double bluff us and Skellig Michael won't be used that much at all in Episode VIII, as Luke Skywalker will reveal right at the very beginning that he's been waiting for someone to come and pick him up from this planet for years and he's long been bored of just staring out to sea.
Daisy Ridley's enthusiastic caption that adjoined her Instagram picture proved that she's just as eager to see Star Wars: Episode VIII as every other Star Wars fan. Unfortunately we still have 18 months to wait until it's released, as its May 2017 release date was agonizingly pushed back to December 15, 2017 so they could get the blockbuster just right. I suppose that was the sensible thing to do, but it still doesn't make the wait any easier, though.
For the full rundown of what we know about Star Wars: Episode 8...
Your Daily Blend of Entertainment News