Why George Takei Isn't Happy About Sulu Being Gay In Star Trek Beyond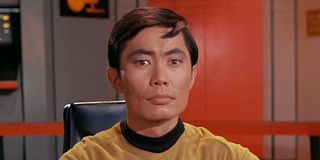 Over its five-decade history, Star Trek has never had an openly gay major character, but that changed today. It was announced that in Star Trek Beyond, it will be revealed that John Cho's version of USS Enterprise crewman Hikaru Sulu is gay. This personal life revelation was partly done as an homage to George Takei, Sulu's original actor who came out in 2005. However, Takei himself isn't pleased with the development, saying it goes against what Star Trek creator Gene Roddenberry has in mind for the character.
While speaking with The Hollywood Reporter, George Takei stated that while he is glad that the Star Trek franchise has a gay character, he wishes the character had been heterosexual, as he and Roddenberry envisioned him during The Original Series. As he put it:
George Takei first heard about Star Trek Beyond's plans for Hikaru Sulu last year when John Cho contacted him about the creative decision. Takei instead suggested that the production instead create an original character who is gay, rather than "out" Sulu. Not long after, director Justin Lin reaffirmed the Sulu plans to Takei, to which the actor passed along the same sentiments. Then a few months back, Takei believed they may have changed their minds and took his complaints into consideration when Scotty actor Simon Pegg, who came up with the Sulu mea with Lin, praised him for his LGBT advocacy in an email. However, that proved not to be the case, as Cho told him last week that the character being gay would eventually come up during the press tour. Takei told Cho to go about his promotional duties as usual, but he wasn't going to change his mind on the matter.
Hikaru Sulu's sexuality will be referred to at some point during Star Trek Beyond when he's seen with his husband taking care of their daughter (presumably Demora, who was briefly seen as an adult in the 1994 movie Star Trek Generations). The moment isn't meant to draw attention, it's simply a way to look into the helmsman's personal life in the midst of the intergalactic adventuring. It's worth noting that Sulu never had an onscreen romantic interest in the previous Star Trek TV shows and movies, so it's not like this move is technically contradicting established canon, especially if their daughter was adopted or conceived via a surrogate. As for Takei, while he's disappointed in how the movie series handled his character, he hopes that he may be able to take the character in another direction in the upcoming Star Trek series that will air on CBS All Access, perhaps by playing either playing an elderly Sulu or even an alien that sounds just like him.
Star Trek Beyond flies into theaters on July 22.
Connoisseur of Marvel, DC, Star Wars, John Wick, MonsterVerse and Doctor Who lore. He's aware he looks like Harry Potter and Clark Kent.
Your Daily Blend of Entertainment News
Thank you for signing up to CinemaBlend. You will receive a verification email shortly.
There was a problem. Please refresh the page and try again.