Leslie Jones Is Fed Up With Ghostbusters Haters, Read Her Rant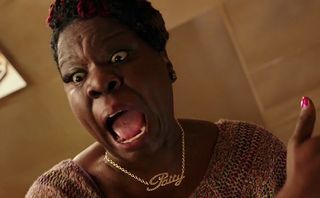 No film in recent memory has had the uphill battle experienced by Ghostbusters. Paul Feig's reboot of the 1984 classic has been bashed in all corners of the internet relentlessly ever since it was first announced, and that hatred has only intensified with the film's imminent release this coming weekend. As it turns out, Leslie Jones has had enough of the haters, and she recently took to Twitter to air her grievances. Check out her amazing rant below to see for yourself.
The Saturday Night Live star took to Twitter early this morning and commenced a four tweet rant against those who have opposed the upcoming Ghostbusters reboot. More than anything else, she seems concerned about the notion that people have said undeniably sexist things about the upcoming film, but close inspection soon reveals that many of these critics have daughters of their very own -- something that does not sit well with her at all.
Her passion for the subject is plain to see from the very beginning, and it only gets more intense as the tweets continue to flow in. Following her opening salvo, she moved on to address the overall concerns regarding the type of message it sends when we tell little girls that they cannot be Ghostbusters. It opens up an uncomfortable topic regarding the type of message we are sending to our daughters.
Based upon her tweets, she seems intent on calling out the hypocrisy of those who proudly raise daughters while lambasting a female-driven remake of a classic comedy. In her eyes, those who would take to the internet to spew racist or misogynistic rhetoric towards something as seemingly harmless as a movie should ponder how they would feel if they had to show those sorts of comments and posts to their own children.
To cap off the entire rant, she implores those who hate the notion of an all-female Ghostbusters to try and imagine what they would do if their daughter came home crying because used those types of comments against their own child. Clearly frustrated, she laments the fact that people simply do not think about the content of their statements before clicking "send" online.
It's hard not to sympathize with Leslie Jones' point of view on the matter. Ghostbusters has received opposition at every conceivable turn despite the fact that it features some of the strongest comedic performers and filmmakers working today. Preliminary reviews of the movie are actually pretty good thus far, so we will soon know for certain whether or not the upcoming reboot can effectively win over the long-time haters.
Stay tuned for any and all updates related to Paul Feig's Ghostbusters as they become available. The long-awaited yet endlessly reviled reboot will hit theaters later this week on July 15.
Originally from Connecticut, Conner grew up in San Diego and graduated from Chapman University in 2014. He now lives in Los Angeles working in and around the entertainment industry and can mostly be found binging horror movies and chugging coffee.
Your Daily Blend of Entertainment News
Thank you for signing up to CinemaBlend. You will receive a verification email shortly.
There was a problem. Please refresh the page and try again.