Blade Runner 2 Is Putting Together A Super Impressive Cast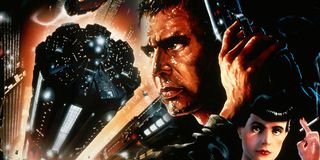 34 years is a pretty long time to wait for a sequel, especially if the film you're waiting for is Ridley Scott's original Blade Runner. While the world would have never guessed it, the announcement of a second film based in the world of one of Philip K. Dick's most iconic novels is something that fans are now looking forward to, with the prospect of seeing director Denis Villeneuve's continuation of Ridley Scott's original universe exciting most everyone that's heard about it. Obviously with this new sequel, produced by current rights holder Alcon Entertainment, comes a cast list of actors, both returning and debuting, to the Blade Runner universe; ready to bring new life to an old classic. Here now is the complete listing, which was previously broken by /Film, of who we know will be in the long awaited sequel.
David Dastmalchian
Coming off of a stint in Marvel's Ant-Man, David Dastmalchian is proving to be having quite the life as a successful character actor. Dastmalchian has previously worked with director Denis Villeneuve, as he had a role in the 2013 drama, Prisoners; but perhaps his greatest claim to fame is the fact that he was one of the Joker's henchmen in The Dark Knight. No word yet on what his role is in Blade Runner 2, but we wouldn't be surprised if he was one of the more menacing Replicants in the bunch.
Hiam Abbass
Coming from the Ridley Scott side of the house, actor Hiam Abbass has been cast after her work in RIdley Scott's Exodus: Gods and Kings clearly put in the good word for her abilities as an actor. Abbass has also been in movies such as Munich and Rock The Kasbah, with more of an emphasis on independent and foreign film being placed in her career.
Ana de Armas
A relative newcomer, Ana de Armas has a couple of major credits to her name, and the first one's a doozy, considering she was one of the two women terrorizing Keanu Reeves in Eli Roth's sexual thriller Knock Knock. In fact, between her previous role's pedigree and the sort of dangerous look she carries off if she smiles the right way, we could be looking at the next generation equivalent of Daryl Hannah's Pris. We'll get to see de Armas in another major film credit before her work in Blade Runner 2, as she'll appear in Todd Phillips' War Dogs later this year.
Barkhad Abdi
After his Oscar-nominated debut in Captain Phillips, Barkhad Abdi has been slowly but surely making a name for himself with roles in other films like Eye In The Sky and The Brothers Grimsby. Still, we can't help but become excited at the prospect of Abdi working with Denis Villeneuve on Blade Runner 2, as he continues to add to the eclectic and diverse cast assembled for this film.
Carla Juri
Swiss actress Carla Juri may have landed a role in Blade Runner 2, but there are two other roles that she'll more than likely have drawn notice from. The first is the extreme sex comedy Wetlands, in which she plays the profane and intentionally disgusting Helen. But more recently, Juri can be seen in the indie comedy hit Morris From America, which is set to premiere in America on August 19th. This leads us to believe that Carla Juri could be playing a lighter role in the compliment of cast members assembled, though we could be wrong.
Sylvia Hoeks
Out of the entire Blade Runner 2 cast, Sylvia Hoeks is comparatively the new kid on the block. With The Best Offer taking the place as her most high profile performance, Hoeks has everything to gain for taking part in Denis Villeneuve's sequel to Blade Runner. Though she's far from the last cast member on the Blade Runner 2 roster, as the real heavy hitters start to come into play on the next page.
Mackenzie Davis
As we start to get into the more recognizable cast members of Blade Runner 2, we're treated to yet another cast member from the Ridley Scott repertory company. Though audiences would best recognize Mackenzie Davis for her role in AMC's Halt And Catch Fire, film audiences have most recently been exposed to her work in the Oscar-nominated science fiction hit The Martian. Looking at Davis' rebellious look from the 80's period TV show she broke out in, we may have spoken a bit too soon about who would be the rightful successor to Pris' crown as the killer beauty of this lot.
Dave Bautista
Speaking of a killer's instinct, Dave Bautista has shown the world that he can do both the lighter and darker side of destruction, through both Guardians of the Galaxy and Spectre. Yet when it comes to Blade Runner 2, we're thinking that Bautista might actually be cast as a human, rather than a Replicant. Come to think of it, there's a good chance he could be playing Ryan Gosling's partner, if Gosling turns out to be the next generation of Blade Runner, succeeding the legacy of Harrison Ford's Rick Decker. At least, that's what we're hoping for, anyway.
Robin Wright
If there were anyone in the recent Blade Runner 2 casting pack that we'd want to see as the ultimate villain of the piece, it would have to be House of Cards star and all around talented actor, Robin Wright. With her icy nature and commanding presence, it's not hard at all to see some sort of sinister plot being masterminded by any character written for Wright to portray. Though at the same time, her amazing range of performance could make her one of the most sympathetic good guys, giving her a break from the stoic nature of the characters she normally plays. Wright can next be seen in Patty Jenkins' Wonder Woman.
Ryan Gosling
Quite possibly one of the most surprising casting notices to come out of Blade Runner 2 is that of international superstar Ryan Gosling. While we have no new details as to what role Gosling will be playing, the possibilities are endless. More than likely, we'll be seeing him play the lead of the film, which leads us to believe that Ryan Gosling could be the new Rick Deckard in the Blade Runner universe. Which leads us to what could possibly be the most surprising casting to originate from Blade Runner 2.
Harrison Ford
Despite the hellish time he had making the first film, as well as the rumor that his infamous voice over in the theatrical cut to Blade Runner was a spiteful under-performance, you wouldn't think Harrison Ford wouldn't ever return to the Blade Runner franchise. And yet, Rick Deckard himself is back for Blade Runner 2, more than likely older and wiser than we last saw him. Though if Rick's back in action, we have to wonder, whatever happened to Sean Young's Rachel?
Blade Runner 2 is currently filming, with an October 6, 2017 release date in mind. As soon as we uncover any more information on the film's production, we'll report back as soon as possible.
Senior Movies Contributor
CinemaBlend's James Bond (expert). Also versed in Large Scale Aggressors, time travel, and Guillermo del Toro. He fights for The User.
Your Daily Blend of Entertainment News
Thank you for signing up to CinemaBlend. You will receive a verification email shortly.
There was a problem. Please refresh the page and try again.