Robin Wright Nabs One Of 3 Key Female Roles In Blade Runner 2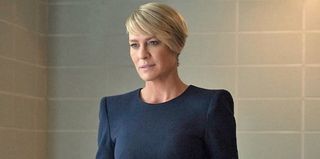 Even though there's been talk of it damn near since the original was released, it took until now for Blade Runner 2 to get rolling right along. It will supposedly begin filming sometime this year, it's got a new star, it's in the hands of a new director, Harrison Ford will reprise his role as Rick Deckard, and fans will finally get a definitive answer to the is-he-or-isn't-he-a-replicant question that has been hotly debated for more than 30 years. And now one more piece of the puzzle has been found as Robin Wright has nabbed one of three new key female roles.
Sure, she's winning all kinds of acclaim for her role on Netflix's political drama House of Cards, but Robin Wright will always be Princess Buttercup to many of us. We may soon know her as something else, however, as Variety reports that she will appear alongside of Harrison Ford and Ryan Gosling in Blade Runner 2. Sony has reportedly had their eye on Wright for the role for some time, and though her House of Cards shooting schedule complicated matters, it appears they have been able to work around those issues.
There aren't presently any additional details about who Robin Wright will play in Blade Runner 2, in fact, the entire thing is, understandably, being kept under wraps. Part of the report, however, indicates that her role is one of three new female parts that will figure prominently in the plot of the long awaited, long-in-the-works, hotly debated science fiction sequel. We're curious to see if she winds up playing a human or a replicant. Whoever or whatever she plays, one thing is certain, she'll kill it, as she's an incredibly talented actress who doesn't get nearly as much credit as she should.
Over the years, there has been a great deal of chatter about Blade Runner 2, but for all the talk, it never really got moving until fairly recently. What little we know of the story is that it picks up several decades after the end of Ridley Scott's 198 Blade Runner, which was itself set in the dystopian Los Angeles of 2019—we're getting close.
Sicario and Prisoners helmer Denis Villenueve will take over the Blade Runner 2 directing duties for Ridley Scott, who is plenty busy gearing up to return to another of his beloved sci-fi properties with Alien: Covenant. But don't worry, Sir Ridley will still produce, and Hampton Fancher, who co-wrote the original, collaborated with Scott on the story and co-wrote the script with Michael Green.
One of the most pervasive rumors about Blade Runner 2 has been that most of the action will revolve around Ryan Gosling's as-yet-unidentified character, and that, though Harrison Ford will show up as Rick Deckard eventually, it might not be until as late as the final act. We're excited to see how Robin Wright fits into Blade Runner 2, not to mention Wonder Woman next year.
Blade Runner 2 is slated to open January 12, 2018.
Your Daily Blend of Entertainment News