Our 5 Most Respected Movie Presidents, According To Film Fans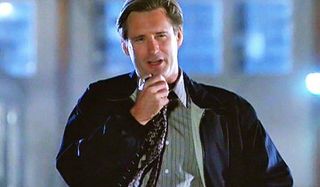 Americans are currently trying to decide whether Donald Trump or Hillary Clinton is best suited to become the 45th President Of The United States Of America. Both have their fans and haters, and the coming months are set to produce one of the most heated campaigns in living memory.
Those of you looking for political inspiration away from Trump and Clinton don't have to go too far, though, because cinema is littered with Presidents that have defiantly fought against terrorists, aliens, and even an asteroid to keep America out of harm's way.
To coincide with this month's Republican and Democratic National Conventions, Fandango asked 1,000 movie fans to vote for their favorite fictional U.S. movie presidents and presidential contenders. Here's who came out on top:
1. Harrison Ford (President James Marshall), Air Force One
Hardly a surprising choice when you consider that, having portrayed Star Wars' Han Solo and the titular archaeologist in Indiana Jones, Ford was always going to have a leg up on his competition. But let's not downplay President James Marshall's antics in Wolfgang Petersen's 1997 political thriller blockbuster, as the Vietnam War veteran and Medal of Honor recipient stealthily travels through the plane to ultimately save his wife and daughter and stop the terrorists, who are led by Gary Oldman. As well as probably increase his poll numbers at the same time.
2. Morgan Freeman (President Tom Beck), Deep Impact
It's hard to praise a President that was in charge when millions of people across the country died. Not only that, but President Tom Beck's plan to destroy the comet hurtling towards them was also a catastrophic failure. But all can be forgiven for the sole reason that he was played by Morgan Freeman. As President, Freeman immediately brought gravitas and wisdom to the role that somehow made the impending end of the world feel understandable.
3. Michael Douglas (President Andrew Shepherd), The American President
Before Aaron Sorkin's The West Wing introduced us to the commander and chief that we all pine to vote for, President Josiah Bartlet, he created a man of equal poise and intelligence in the shape of President Andrew Shepherd. A widower, Shepherd falls in love with environmental lobbyist Sydney Ellen Wade, while the pair's blossoming romance is complicated by his rather lofty position. This pursuit makes Shepherd even more relatable than his peers, while it also helps that he's repeatedly uttering the words of Aaron Sorkin.
4. Bill Pullman (President Thomas J. Whitmore), Independence Day
Of course, President Thomas J. Whitmore had to be on this list. His deafening battle cry ahead of the world's fight against the alien invaders on the morning of July 4 was what spurred on the combatants to truly kick some alien ass, with a little help from the alien's poor software defence system. Sure, Independence Day: Resurgence might have sabotaged his legacy a little, but we'll still always have Area 51.
5. Jamie Foxx (President James Sawyer), White House Down
At least the second toughest President on this list, Jamie Foxx's James Sawyer would give Whitmore and Marshall a run for their money in a tussle, while he'd definitely destroy them if he had special agent John Cale (Channing Tatum) helping him out. While his pursuit to bring peace to the Middle East was nice, what really enhanced President James Sawyer's reputation amongst movie fans was that he was umpteen times cooler than Aaron Eckhart's President in Olympus Has Fallen.
Those of you wanting to see even more clips of Fandango's five favorite Presidents, as well as a list of the five worst Presidents in movie history, should click below.
Which Presidents were left off this list that should have been included? Let us know in the comments below.
Your Daily Blend of Entertainment News