Weekend Box Office: Star Trek Beyond Opens Number One, Franchise Starts To Slip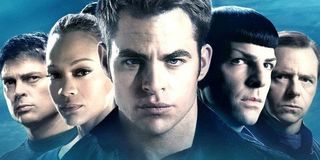 Star Trek Beyond, the third entry in the rebooted sci-fi franchise, landed a solid number one start this weekend but showed a noticeable slip from the previous two movies.
With $59 million, Star Trek Beyond still has one of the top ten openings of 2016 so far, but marks a notable drop from Star Trek's $75 million and Star Trek Into Darkness' $70 million openings. The drop isn't unusual for franchises, but it's the opposite trend from the original Star Trek films, each of which consecutively opened higher from the original in 1979 until the ninth film, Star Trek: Insurrection, in 1998.
PG-13 horror films aren't as common as their R-rated brethren, but their dirt cheap budgets just as easily result in insta-profits. Lights Out opened with a strong fourth place start with $21 million against a $5 million budget, making it one of the more profitable horror flicks in the last couple of years.
The Ice Age franchise is beginning to feel like this decade's Land Before Time. The fifth animated pre-historic venture in the series, Ice Age: Collision Course, opened in fifth place with a just $21 million. Despite a $105 million production budget, international sales have already pushed the movie well out of the red. But with the lowest domestic opening of the franchise so far, it's not clear how much longer the cash cow can be milked before it converts to direct to Netflix.
For the full weekend top ten, check out the chart below:
Your Daily Blend of Entertainment News
Thank you for signing up to CinemaBlend. You will receive a verification email shortly.
There was a problem. Please refresh the page and try again.