The Rocketeer Is Getting A Reboot, Get The Details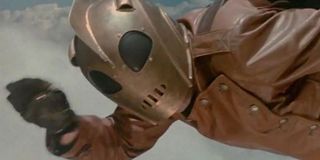 While Joe Johnston's The Rocketeer wasn't particularly well appreciated when it was first released in 1991 -- receiving mixed critical reaction and a getting a small box office turnout -- but the movie has spent the years since growing as a cult favorite. As such, it was really only a matter of time before the franchise returned to the big screen, and that's what we're getting in what is being referred to as a new "sequel-reboot."
News of this developing project comes to us from The Hollywood Reporter, which reports that Walt Disney Pictures have hired the team of Max Winkler (Ceremony) and newcomer Matt Spicer to write the screenplay for the project. There aren't any firm details available about the plot, but the project will apparently be headlined by a black female character. It's also worth noting that the movie won't be going the remake title route, and will be called The Rocketeers.
The original Rocketeer movie, based on the character created by Dave Stevens and scripted by Danny Bilson and Paul De Meo, centered on Cliff Secord (Billy Campbell), a stunt pilot living in 1938 Los Angeles who gets caught up in an adventure when he winds up in possession of a jetpack and special helmet designed by Howard Hughes (Terry O'Quinn). The movie is a fantastic period action movie, with really great and memorable supporting performances from Jennifer Connelly, Alan Arkin, Paul Sorvino and Timothy Dalton.
Being a big fan of the original movie (one I repeatedly watched when I was a kid), I'm a bit conflicted about this Rocketeers news, and it's all because of one unclear factor: whether or not the new film will take place in the same continuity. The phrase "sequel-reboot" is a bit unclear, as "sequel" suggests that it will be a legitimate follow-up, but "reboot" could mean that the filmmakers will be starting with a clean slate. I'm definitely hoping for the former over the latter, both because getting rid of the canon is stupid, and because it would be super easy narratively just to have a new character discover Cliff Secord's special technology. Hopefully the "reboot" part merely refers to the fact the story will center on a new hero.
(UPDATE: Variety has published its own article about The Rocketeers, and have provided a lot more plot details than the THR story. According to the trade, the new movie will pick up six years after the first movie.Cliff Secord, who has been off fighting the Nazis, has disappeared - which is what leads to a young African-American woman pilot to strap on his famous jetpack. This becomes an urgency because there is a corrupt rocket scientist who wishes to "[steal] jetpack technology in what could prove to be a turning point in the Cold War.")
How do you feel about the development of The Rocketeers? Are you like me and would prefer to see a sequel that continues the continuity rather than a reboot that destroys the canon? Or do you think the idea of bringing back The Rocketeer as a concept is stupid in general, and shouldn't happen at all? Hit the comments section below with your thoughts, feelings, and concerns, and be sure to stay tuned for more updates about the blockbuster as it continues to make its way through development!
Assistant Managing Editor
NJ native who calls LA home and lives in a Dreamatorium. A decade-plus CinemaBlend veteran who is endlessly enthusiastic about the career he's dreamt of since seventh grade.
Your Daily Blend of Entertainment News
Thank you for signing up to CinemaBlend. You will receive a verification email shortly.
There was a problem. Please refresh the page and try again.