Weekend Box Office: Jason Bourne Opens Big, Star Trek Takes A Hit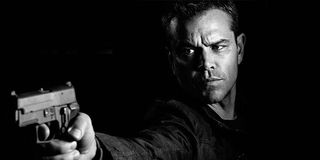 After almost a decade Matt Damon and director Paul Greengrass returned to the world of Bourne, turning in a movie that enjoyed the second highest opening of the franchise.
After bringing the largest opening day of any Bourne movie on Friday, Jason Bourne, the fifth movie in the franchise and the fourth starring Damon, wound up at $60 million, second only to the $69 million debut weekend for The Bourne Ultimatum in 2007. That's well above the last entry, The Bourne Legacy, a sort of spin off which only opened with $38 million in 2012.
Box office success isn't enough to draw Damon back for another sequel, so the financial win for Universal is no guarantee of a follow up. But in this age of reboot craziness it might only be a matter of time before the studio decides to start the franchise over with a younger action hero.
Star Trek Beyond slipped almost 60% from last weekend, falling even further behind its two reboot predecessors. Beyond managed to clear the $100 million this week, landing at a $105 million second place, but by the end of their second weekends Star Trek and Star Trek Into Darkness were both just shy of $150 million.
Rated-R comedy Bad Moms opened with $23 million against a $20 million production budget for third place this weekend. That was much stronger than the other new arrival this weekend, James Franco's Nerve, which debuted at number eight with just $9 million. The thriller opened early on Wednesday, pushing its current total to around $15 million against its own $20 million production budget.
For the full weekend top ten, check out the chart below:
Your Daily Blend of Entertainment News