How Sicario 2 Is Going To Up The Stakes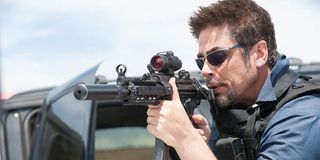 The fact that Denis Villeneuve's 2015 cartel thriller Sicario has begun to receive the franchise treatment continues to feel like an oddity in the world of cinema. Don't get me wrong, it's most certainly a phenomenal movie, and easily one of last year's standout films; it just seems like an incredibly odd story to continue fleshing out when we consider how it ended. With that in mind we've maintained a certain degree of skeptical optimism regarding the upcoming Sicario sequel, titled Soldado. However, a new statement from Soldado writer Taylor Sheridan seemingly indicates that the second installment in the newfound franchise could seriously up the stakes, we we're definitely on board with that creative direction.
The folks at Collider recently sat down with screenwriter Taylor Sheridan, and he explained that the upcoming Sicario sequel would take all of the gritty, unsavory elements of the original, and crank them up to eleven. He asserts that he tried to make a movie that studios would think twice about producing, and that seems to promise a movie that will undoubtedly double down on the brutality that we all loved about the first installment. He said,
Remember, Sicario had no qualms about showing the sheer savagery on both sides of the war on drugs. We saw bodies packed into the walls of houses, visceral gun fights that didn't skimp on blood or gore, and a climactic showdown that took no issue with adding seemingly innocent people to the film's body count. If Taylor Sheridan claims to have upped the ante this time around, then you better believe that Soldado will look and feel darker than hell at night.
Despite the fact that Soldado will escalate the merciless nature of the original, it won't necessarily concern itself with ideas such as continuity. The narrative of the upcoming film will follow Sicario characters Matt Graver (Josh Brolin), and Alejandro (Benicio Del Toro) as they embark on a brand new mission to exact brutal, American justice, but the film will apparently leave Emily Blunt's Kate Macer behind. While this most certainly seems like a weird choice, it also seems like the right decision from a storytelling perspective, as Kate's arc was more or less wrapped up by the time the credits rolled on the original. Considering the fact that Kate represented the conscience of the original movie, we have a feeling that Soldado will take more time to further highlight Alejandro's insane, Solid Snake-esque skills.
We will bring you all of the gory, gritty, and all around nasty details related to Soldado as more information becomes available to us. An official release date for the Sicario sequel has yet to be announced.
Originally from Connecticut, Conner grew up in San Diego and graduated from Chapman University in 2014. He now lives in Los Angeles working in and around the entertainment industry and can mostly be found binging horror movies and chugging coffee.
Your Daily Blend of Entertainment News
Thank you for signing up to CinemaBlend. You will receive a verification email shortly.
There was a problem. Please refresh the page and try again.