Transformers: The Last Knight Drops First Look At Drift's New Autobot Form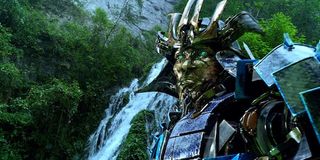 Last month, it was announced that the Autobot Drift would return next year for Transformers: The Last Knight, but he wouldn't look the same as before. First, Michael Bay showed off Drift changed into his new vehicle, a Mercedes AMG GT R. Now the director has unveiled the benevolent robot's new humanoid form.
Bay posted this image on his Twitter account earlier today, which shows Drift with his new red paint job in Transformers: The Last Knight, the fifth installment of the series. His samurai-like appearance is still intact, but the new color definitely makes him pop out more. Included with the concept art were some facts about him, including that he is 16-feet tall, is no longer in hiding and is known as "The Honorable Warrior." It's good to see that he still mostly resembles his original self and still wields those two swords, but we'll get a better sense of his new form when we see him in a trailer.
Drift made his live action debut in 2014's Transformers: Age of Extinction, voiced by Ken Watanabe. In this, he had a blue color scheme, while his vehicle of choice was a Bugatti Veyron. He was one of the five remaining Autobots who were into hiding in the United States after the government hunted the rest down with the movie's main antagonist, Lockdown. Drift frequently clashed with Bumblebee about who was the more effective leader while Optimus Prime was gone, but when the most notorious Autobot returned, they carried out his orders. Drift helped protect Cade Yeager and his family from hostile forces, both human and Decepticon, and before Optimus Prime left for outer space, he charged Drift and the others to continue protecting those humans. While Drift's exact involvement in Transformers: The Last Knight has yet to be revealed, we can count on him to continue his noble service.
Details are still scarce about the fifth installment of the Transformers series, but there will be a lot of returning faces, from Optimus Prime and Megatron to Bumblebee and Barricade. Some of the new robotic extraterrestrials who are being introduced include Hot Rod, Squeeks and Onslaught. As far as humans go, Mark Wahlberg is reprising his role as Cade Yeager, while Josh Duhamel and Tyrese Gibson are finally returning to the series as William Lennox and Robert Epps, respectively. The movie's new human faces include Isabela Moner, Jerrod Carmichael, Laura Haddock and Anthony Hopkins.
Transformers: The Last Knight charges into theaters on June 23, 2017. Let us know what you think of Drift's new look in the comments below.
Connoisseur of Marvel, DC, Star Wars, John Wick, MonsterVerse and Doctor Who lore. He's aware he looks like Harry Potter and Clark Kent.
Your Daily Blend of Entertainment News
Thank you for signing up to CinemaBlend. You will receive a verification email shortly.
There was a problem. Please refresh the page and try again.