New Transformers: The Last Knight Image Shows A Classic Cartoon Character In Live-Action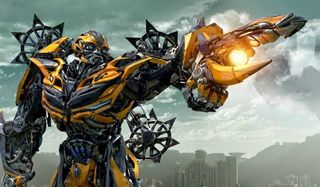 After four films, it's going to be hard for the Transformers team to make The Last Knight stand out from its predecessors. While the production has kept Michael Bay on board as director and brought Mark Wahlberg back as Cade Yeager to have some consistency, they've also been forced to think a bit harder about how to stretch and expand the universe over the course of its upcoming films. This is set to include the classic character Hot Rod, as it's now been confirmed that the legendary Autobot will finally join the cinematic universe. You can check out our first peak at Hot Rod, below.
Those of you that either aren't quite sure who Hot Rod is are in luck, because the handy folks working on Transformers have provided some crib-notes that give us an instant update on the character.
Not only does he come in at a stratospherically high 16' 1", which I'm guessing means he weighs the equivalent of a three story building, too, Hot Rod is a close pal of Bumblebee, who has been a mainstay in the Transformers cinematic universe ever since Sam Witwicky innocently bought him from a used car dealership all the way back in the 2007 original. Just like the other Transformers, Hot Rod is far from a withering wallflower, and he possesses a brash and even slightly arrogant personality, but he is still keen on protecting his fellow Autobots as well as humans.
That's something that he'll need to do throughout Transformers: The Last Knight, as it's been confirmed that, once again, Decepticon's formerly fallen leader Megatron will return with Barricade, while Onslaught will also debut in the blockbuster. Hot Rod will appear alongside the returning Autobots Optimus Prime, Bumblebee, Drift, and Crosshairs, and the debuting Sqweeks - a teeny tiny Transformer who is the only friend of Isabela Moner's orphaned character.
I do have one question regarding the movie version of Hot Rod for you all, though. Is it just me, or were your eyes immediately drawn to Hot Rod's buttocks, too? Please say it wasn't just me, otherwise my excitement for Transformers: The Last Knight will be tinged with a possible sexual perversion that I'm not quite ready to try and comprehend.
Anyway, my possible complexities aside, we're now less than a year away from Transformers: The Last Knight being released. We'll finally get to see Mark Wahlberg, Isabela Moner, Josh Duhamel, Tyrese Gibson, and Sir Anthony Hopkins in the blockbuster when it's released on June 23, 2017.
Your Daily Blend of Entertainment News