Transformers 5 Is Giving One Of The Autobots A Brand New Look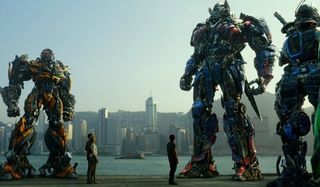 Michael Bay has revealed a brand new image for Transformers 5, which shows that one of the Autobots has been given a hugely impressive upgrade. The Transformer in question is none other than Drift, and you can have a gander at the automobile's brand new look below. It's just a little bit swish.
Impressive stuff, yeah? Michael Bay took to his Twitter account to reveal the first look at Drift's incognito look, which comes under the disguise of a Mercedes AMG GT R. Obviously that's not where he's at his most natural, though. When the Autobot, who made his debut in _Transformers: Age Of Extinction _(voiced by Ken Watanabe), stands tall, he actually looks like this: (He's the one in the middle.)
At the start of Age Of Extinction, Drift was one of five Autobots that was in hiding following the huge amount of destruction that was caused in Transformers: Dark Of The Moon. However, the Decepticon Lockdown, with a little help from the CIA unit Cemetery Wind, soon set out to capture all of these Autobots. In order to avoid being apprehended, Drift transformed into a black and blue Bugatti Veyron. That was almost as pretty and attractive as his new Mercedes AMG GT R exterior.
After avoiding Lockdown, Drift soon rallies alongside Optimus Prime, Hound, Crosshairs and Bumblebee, the latter of which Drift often comically comes into conflict with because of his preference for speaking in haikus, and the fact that Drift doesn't believe that Bumblebee is a worthy acting leader in the absence of Optimus Prime. However, they put these differences aside and during the battle of Hong Kong they are integral in both keeping Cade Yeager (Mark Wahlberg) and his family safe, as well as defeating the Decepticons.
Michael Bay's picture of Drift is the latest of numerous images that the director has uploaded during production on Transformers: The Last Knight, which will once again see Mark Wahlberg returning to the blockbuster. After rushing out four Transformers films in seven years, each of which, it's widely agreed, got progressively worst, The Last Knight is the first film since Oscar-winning screenwriter Akiva Goldsman and a team of around 10 other writers helped to mould the newTransformers universe.
We'll see if they've been able to make a substantial difference when Transformers: The Last Knight is finally released on June 23, 2017.
Your Daily Blend of Entertainment News